Tag Archives:
spy shot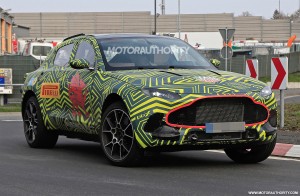 The Aston Martin DBX SUV is scheduled for release late this 2019, but as part of its early development, it was spied being tested on Germany's Nurburgring. Though the car was heavily camouflaged, the spy shots showed that the DBX will be a four-door small SUV with sizing similar to the Alfa Romeo Stelvio.
Back in 2015, Aston Martin also used the DBX name for a 2015 concept that previewed the SUV's design. There were rumors, back then, that the small SUV will arrive with different nomenclature. Varekai was one of the suggestions. Aston Martin stuck with the DBX name, linking the SUV with the DB line of sports cars that the automaker is known for.
Based on the spy shots of Motor Authority, the DBX SUV will come with a new platform that has been developed for a high-riding vehicle with capacities for off-road conditions. If you're worried that the platform will change the design Aston Martin is known for, you need not fret. This new architecture follows the same extruded and bonded aluminum process that the company employs on its sports cars.
As usual, DBX is focused on improving its suspension technology which will address the SUV's increased size and weight.
The SUV was first planned out as an electric car and for some time, it looked like Aston Martin will stay true to that route. But the plans have changed because of the revival of the Lagonda as an EV brand. Now, the DBX SUV is expected to arrive with a 4.0-liter twin-turbocharged V-8, the same engine being used on the Mercedes-AMG.
For those who want an EV variant, a hybrid powertrain that uses the new V-6 engine developed by Aston Martin might also be in the works.
The DBX will start production this year at the plant in St. Athan, Wales, which is also going to be the site where the Rapide E electric sport sedan will be built. Later, two Lagonda models—an SUV and a sedan—will join the DBX in the site.