Tag Archives:
spy shots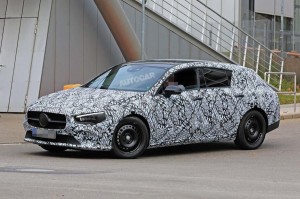 A redesigned Mercedes-Benz CLA is about to arrive. The new series will spawn a wagon variant called the CLA Shooting Brake. And just this week, a prototype for the redesigned CLA Shooting Brake has been spotted for the first time.
Exterior
The spy shots showed a CLA Shooting Brake wrapped in thick and heavy camouflage but that didn't stop us from noticing the sleek shape that the Mercedes engineers are planning for the Shooting Brake. The face resembles a scaled-down version of the latest CLS and you will notice a new grille based on the German automaker's Panamericana grille.
Interior
The upcoming Mercedes-Benz CLA Shooting Brake will receive the automaker's new cockpit design which combines a large infotainment screen with a digital instrument cluster. The infotainment screen can be controlled fully by touch but the driver can also use natural speech to manipulate many of the car's features and functions.
Cannot imagine how the new cockpit will look like? Take a look at the new A-Class sedan's cockpit. Elegant and sleek, the new CLA Shooting Brake's cabin is made for luxury.
Mercedes will use an updated version of the Modular Front-Drive Architecture (MFA). This is the same platform being used for current Mercedes compacts and is currently being hailed for its weight-saving capacities and its ability to be configured for different drivetrains.
Powertrain
Speaking of drivetrains, the CLA Shooting Brake should have a range of turbocharged inline-4 initially in the US. The standard engine is expected to be a 2.0-liter turbocharged inline-4 that can produce 188 horsepower and 221 pound-feet of torque.
The engine will be paired with a front-wheel drive for the standard models, but an all-wheel drive should be available for the performance-oriented models.
The redesigned CLA should be open to the market next spring while the Shooting Brake model will arrive next fall. Like the current Shooting Brake, we don't expect this new one to be available in the US.