Tag Archives:
sq3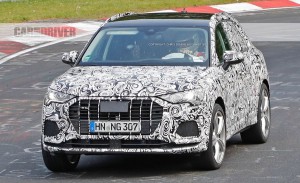 The Audi SQ3 is the sporty and level-up version of Audi's second-generation Q3 crossover, which will be unveiled in late July. The SQ3 will come with the trademark aggressive S styling treatment and four exhaust pipes.
This performance version of the Q3 will match the power output of the outgoing RS Q3, which will have a new iteration of Audi's turbocharged 2.5-liter inline-five that produces at least 400 horsepower later on. The RS Q3 was not released to the American market, making the SQ3 much more in demand and anticipated.
1. Platform
Like the base model Q3, the Audi SQ3 will use the Volkswagen Group's MQB modular-transverse platform that is being used by a wide range of vehicles—from the small VW Polo to the Atlas SUV. The SQ3 will be similar in size to the current model, but the suspension will be tuned aggressively for minimum roll and sporty handling characteristics.
2. Powertrain
The Audi SQ3 will have the same EA888 turbocharged 2.0-liter four engine that can now be found in the Audi S3 and the Volkswagen Golf R. It can produce around 300 horsepower and can go from complete stop to 60 mph in just 4.5 seconds. It will have a top speed of 155 mph. The engine will come standard with a seven-speed dual-clutch automatic and Quattro all-wheel drive. We don't have information on other powertrains available for higher-end versions.
3. Estimated Arrival and Price
The Audi SQ3 is expected to arrive in the United States in 2019 as a 2020 model. There is no information yet about the prices, but it will have a starting price of $45,000. Other variants will go north of that range with the available options offered to the vehicle.
The 2020 Audi SQ3 is competing directly with the BMW X2 and the Mercedes-AMG GLA45.
Spy Shots
Here are some spy shots of the Audi SQ3 from CarAndDriver: