Tag Archives:
subaru forester
Subaru has always managed to impress us with its excellent blend of utility, comfort and all year around weather capability, which has always remained a staple in its cars. But this time, with its redesigned 2014 Subaru Forester, the company has gone a step ahead with almost the same ingredients and recipes but managed to make key improvements with a slight change in its cooking style. This time, the Forester comes with improved and larger interior room, which is good enough to accommodate a family. Additionally, it has better fuel economy and strength which was never found in the earlier versions of Subaru. With these improved features, now the all new 2014 Subaru Forester stands proudly among the top small to midsized crossovers because of its updated transmission and engine.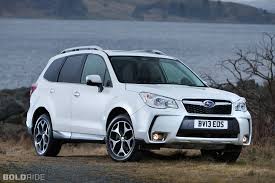 The most enduring appeal of Subaru lies in the fact that it comes with all the traditional SUV features that a crossover lover want to have or would like to use in an SUV. Full time all wheel drive feature, hatchback utility and little bit more ground clearance without making a full blown bulky SUV are some of the highlights of 2014 Subaru Forester. Before we dig deep into Foresters' driving dynamics and other tech specs, you must understand that it is no Jeep or for that matter a Range Rover while off road, but it still has more ground clearance to offer than any of its competing crossover. Subaru has made its 2014 Forester tough enough to handle all kinds of dirt roads and still make its drive feel like a car in all sort of tough situations.
The more efficient and variable transmission of 2014 Subaru Forester is the result of the replacement of its last years' four speed automatic and the main driving force behind the new forester is its improved fuel economy rating, which is quite considerable if compared to other crossovers. Last years' five speed manual transmission has been replaced by six speed manual transmission which also a factor behind this year Foresters' fuel economy. Just like before, Subaru is offering two engine choice for its Forester, which include the base 2.5 liter four cylinder engine known for its adequate power and the all new optional 2.0 liter turbocharged four cylinder which is more potent than the previous Forester XTs' 2.5 liter turbo.
If you look inside the cabin of the 2014 Subaru Forester, you will find it more contemporary then its previous version along with the use of high quality materials. An increase in rear seat legroom is quite evident along with expansive cargo area. If you drop the rear seats you will get enough space to make it a warehouse for a day for long trips and carrying stuff like tents, kayaks and bikes.
In terms of competition, 2014 Subaru Forester has to compete with the likes of Mazda CX-5, Honda CR-V and Ford Escape as they all are leading the fore front in small crossover section. But if you are giving importance to interior space and light off rod ability then 2014 Subaru Forester is an ideal choice.