Tag Archives:
SUV 2017 Mini Countryman
Motor lovers owe it big time to Mini. Seriously. A word of huge thanks, Mini, for rocking the 1960s and lending your special touch to retro. You weren't big but you were great. MINI was like a rage, like a movement, like a belief that no one could shatter then. It stays untouched, unchanged even today. No doubts there. Of course, a lot has changed in terms of ownership, model creation and engineering. But, the word Mini makes our hearts skip a beat, out of sheer appreciation and amazement. So, when the air was heavy with the news of the ultra-advance 2017 Mini Countryman, of course, a zillion heartbeats skyrocketed. Zoom went our engines. But could we have helped it? Wait till you find out more and God knows you'll race out on the roads, with joy. Quite like everyone who spotted the magnetic and the mysterious SUV 2017 Mini Countryman.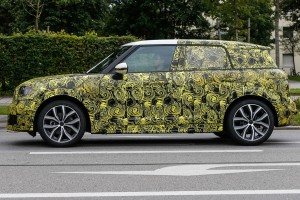 Well, for starters, just know that Mini Australia has announced, rather haughtily, the  pricing for the absolutely gorgeous 2017 Mini Countryman. To add to the thrill, some spy photographers – God bless them – have captured some smashing new shots from the model testing grounds in Germany. It is positively a sight for curious eyes. From what the pictures tell us, it sure makes for a ravishing second-generation machine. To rev up our engines more, on the fortunate roads, some sighted a densely camouflaged 2017 Mini Countryman couldn't be more awaited is all that can be said. It is easy to see how the British brand is working diligently to give the world a dose of compactness through its new offering. From what was noticed, the test car inherits the body panels from the Countryman that's running on the roads today. It wears a longer bonnet and grander overhangs. One thing is for sure, it is going to surpass the current 4.1-metre-long model. Magnanimous exteriors also mean that the machine will have a more spacious inside and a generous leg-room in 2017 Mini Countryman come already!
Tip-offs have it that Mini Countryman will largely be based on the UKL platform, something that makes it quite like the five-door Mini hatchbacks, wait a minute, even the BMW 2 Series Active Tourer!
Taking a look at the details, the grille, we were told, appeared significantly larger, so we are guessing some changes have transpired under the bonnet. It is expected that it will delight its takers with a range of three- and four-cylinder turbocharged petrol and diesel variants. Not only that, it will be available in front- and all-wheel-drive layouts.
It is almost like it is not an SUV but a wave of good news, isn't it? Yes, we know, in your heads you are picturing yourself bringing this pretty baby to life on a butter-smooth road lined with the perfect green trees, some crystal clear ponds and golden fields. Hold your horses or pray for 2017 to be here sooner. Only for the sake of the gorgeous 2017 Mini Countryman!