Tag Archives:
suv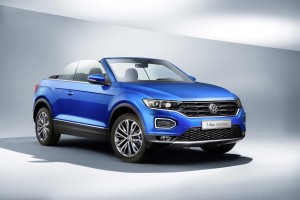 Convertible SUVs are not too popular these days. There's a plunge in the demand for them but fortunately, you can still get your hands on one if you want to. German automaker Volkswagen came up with the new T-Roc Cabriolet, a high-riding compact car with a drop-top.
Why Make The T-Roc A Convertible?
VW already axed the Eos, the Golf Cabriolet, and the Beetle Cabriolet. This means there's room in its lineup for a small drop-top convertible. What you get when you mix that gap with the need for a crossover is the T-Roc Cabriolet.
The brand also needs at least one convertible in its range so the T-Roc will be the only convertible in the VW lineup for the foreseeable future. It looks the same as the regular five-door T-Roc except that it has a soft drop-top, a raked windscreen, and only two larger doors.
Should You Get The VW T-Roc?
Absolutely! This is the first crossover cabriolet in the compact segment. If that seems to be a lot of combination, just think about this: it combines an extroverted design with the raised seating that's characteristic of an SUV. The trunk isn't as big as the regular T-Roc crossover but the 284 liters are just enough. When the soft top comes down, that capacity decreases to just 161 liters.
Speaking of the drop-top, it folds electronically at speeds of 30 km/h or 19 mph. The shape is alike the top created for the Golf Convertible.
What Platform Is Used For The T-Roc Cabriolet?
The drop-top version of the regular T-Roc used the same MQB platform that underpins everything from the Audi A1 to the Passat. The structural rigidity of the car, however, was affected because of the drop-top. VW said it used four cross braces and a front cross strut in key areas to make the car sturdier.
When Will The T-Roc Cabriolet Be Available In The Market?
The T-Roc will officially be revealed at the 2019 Frankfurt Motor Show on September 12 to 22. The market debut should be sometime in the spring of 2020. There are two packs that buyers can choose from: Style will include color themes for the interior, standard mood lighting, and 17-inch rims with a distinctive lacquered finish while the R-Line adds standard fog lights and sports seats for a sporty look.