Tag Archives:
SVR
Supercars cannot simply stay as they are. Customers are requiring much more in terms of performance, reliability and technology. Brands such as Porsche, Bentley, Maserati and Lamborghini have all answered the call for a sporty SUV. Now, Jaguar has also heard the need for it and recently unveiled plans for the F-Pace SUV.
But rumor has it that there's a new player in town—a V8-powered called the SVR. This is a quick turnaround for Jaguar considering it has just started production of the SUV.
If it becomes a real thing, we should see the SVR being unveiled as early as next year's Geneva International Motor Show.
Outside, the Jaguar F-Pace SVR is expected to be more muscular than the existing crossover SUV. The front bumper would have larger intakes with a chrome accent along the lower center grille and a glossy black insert.
Although the LED-equipped headlights would remain the same, the hood would get black vents. The tail-side of the front fenders would also have vents in all-black. Other features would include a front splitter, side skirt extensions and rear diffuser.
Inside, the sporty SVR would expectedly have a luxury-laden cabin that uses high-end materials and high-tech amenities. The infotainment system would include the InControl system—navigation, Bluetooth connectivity, and smartphone app support.
To control it, you would have to use the large touchscreen on the center console. There are also some buttons on the three-spoke steering wheel. Options would include new upholstery colors, plus driver's aides like automatic braking, lane-keep assist, parking assist, and carbon fiber trim.
The current F-Pace has three options, but the SVR would naturally require more in the tune of two additional supercharged cylinders in Jaguar's tried-and-true 5.0-liter V-8. The output levels should match the Range Rover at 542 horsepower and 502 pound-feet of torque.
Expect the SVR to hit 60 mph in the low four-second range with a top speed of 160 mph.
The regular F-Pace starts at $40,990 and goes up to $56,700. The SVR would most likely add $20,000 on the base model.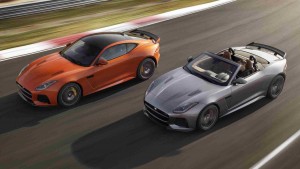 Boasting a speed of 567 bhp, 200 mph, the all-wheel drive Jaguar F-Type SVR can get your from 0-60 mph in 3.5 seconds. That, in a nutshell, is how to sell this new monster machine, the first Jag to carry the SVR badge—named after the Jaguar Land Rover Special Vehicle Operations group.
But if you want to really get into the final specifications of the SVR coupe and convertible, then here they are: it has a supercharged 5.0-liter V8 with a top speed of 200 mph, a more aerodynamically effective front bumper and splitter, a flat underfloor, carbon fiber active rear wing and rear venture, and an exhaust made of lightweight titanium and Inconel.
The Jaguar's supercharged 5.0-liter V8 proves this is more than a coupe and convertible version of the Project 7 limited-run F-Type, which required a delicate throttle foot or a massive tire budget.
The chassis also had an upgrade to make sure this one's going to compete well with other of its kind in the market. It has a new set of dampers and anti-roll bars, as well as stiffer suspension knuckles, wider tyres and lightweight wheels. You can also expect a standard Adaptive Dynamics, Torque Vectoring and stability control and "bespoke calibrations" for the 8-speed auto and all-wheel drive.
Outside, it looks meaner than ever, although the company hasn't gone full rock-on weird yet with the styling. Ian Callum's penmanship can be seen on the aesthetic designs of one of the most beautiful sports cars on the road today.
Jaguar said the pricing would begin around $126,000 (£110,000 for the Coupé and £115,485 for the Convertible), firmly putting this on the 911 Carrera GTS level. The company has released full specifications, features and photos for this machine.
Anyone wanting to get their hands on the Jaguar F-Type SVR will have to wait until this year's summer.
Source: Top Gear