Tag Archives:
tech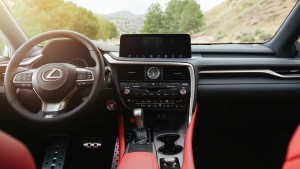 If you were one of those disappointed by Lexus for its confusing infotainment system on the present Lexus RX, you'll be happy to know that the car's 2020 model will greatly improve on this user experience. The new model's infotainment system now has a touchscreen and smartphone integration, two key features that were lacking in the present model.
The most controversial parts of the Lexus' multimedia system were the touchpad and the mouse-like interface that were overly sensitive and lacking intuitiveness. In fact, when infotainment systems were talked about, Lexus' multimedia system ranked last, especially when compared to the likes of FCA's Uconnect system.
Thankfully, the 2020 Lexus RX is now coming with a touchscreen. This means the user has more control over the features of the multimedia system. The screen now responds in a timely manner. It has minimal lag. It's powerful enough that it doesn't get bogged down even if you input too many commands at once. You can still use the touchpad but that is now optional.
Today, if your car doesn't have smartphone integration, you are losing on a whole lot of consumer experience. The 2020 Lexus RX is the first model in the brand's lineup to carry both Apple CarPlay and Android Auto. When the car was revealed, Lexus presented two cars—one that's compatible with Apple and another one that works with the Android system.
Apple CarPlay covers the entire 12.3-inch touchscreen while Android Auto uses only half so you can still use the other half of the space for widgets. Android said they'll have an update this summer to fix this issue so Android users have to deal with this layout for now.
Lexus still didn't change the tiny icons despite it being a touchscreen already. This makes it harder for the driver to see the icons and click on them. And since the layout hasn't changed, it means there is still no dedicated home button. Drivers have to depend on the buttons perched above the touchpad.
These are minor problems, though, and drivers can easily get used to them. The best news is Lexus heard your grievances and decided to act on them.