Tag Archives:
technology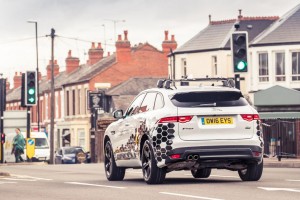 A new technology developed by Jaguar Land Rover allows cars to communicate with traffic lights. It tells drivers to either to speed it up (so they miss the red lights) or to slow down when approaching stop lights.
The vehicle-to-infrastructure or V2X system is called the Green Light Optimal Speed Advisory or the GLOSA. It is designed to prevent tailbacks at traffic lights and is aimed at reducing traffic in urban areas.
Jaguar Land Rover said that the widespread adoption of the GLOSA will prevent drivers from trying to beat the red light. It thus improves air quality because the system reduces harsh acceleration and braking.
JLR connected technology research engineer Oriol Quintana-Morales said GLOSA has "the potential to revolutionize driving by creating safe, free-flowing cities that take the stress out of commuting".
The research for GLOSA continues as JLR aims to make the commute as comfortable as possible for their customers.
Right now, the GLOSA is being tried in the Jaguar F-Pace. It is part of the government's £20 million project called UK Autodrive that aims to reduce the time commuters spend in traffic. JLR is also testing a number of other technologies with the same purpose.
One of these technologies is called the Intersection Collision Warning (ICW), which can alert drivers when it is unsafe to proceed at a junction. It also informs drivers if other cars are approaching from another road and suggests the order in which they should proceed when crossing the junction.
The company is also working with technologies that will give drivers real-time update about the availability of parking spaces in their destination. There's also another technology called the Emergency Vehicle Warning, which will alert drivers when an ambulance, fire truck, or other emergency vehicle is approaching.
With connected technology, JLR plans to deliver "zero accidents, zero congestion, and zero emissions."