Tag Archives:
tiguan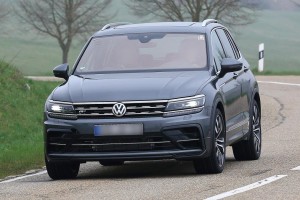 The 2019 Volkswagen Tiguan R is scheduled to be revealed later this year. This means the German company is constantly testing the car to prepare it for the release. Spy shots of the Tiguan R revealed a new performance SUV that used the same platform found in the recently-launched Cupra Ateca.
According to reports, the new Tiguan R will be powered by the same 2.0-liter turbocharged four-cylinder petrol engine that makes 296 horsepower and 400 Nm of torque on the Ateca. That power will go through a seven-speed DSG to an all-wheel-drive configuration that allows the car to go 62 miles in around six seconds.
The test mule has the same R-Line version of the SUV, which means it will sport the model line's front bumper, rear valance, and large rear spoiler. The only difference will lie on the twin-exit exhaust tips. Volkswagen may want to make the Tiguan R sportier before its big reveal but that's all up in the air for now.
Other features that are to be expected are adaptive suspension, updated performance brakes, a choice of alloy wheels, and a sophisticated traction control system.
The cabin should also be similar to a Tiguan R-Line with a pair of leather-trimmed sports seats, a sports steering wheel, a panoramic sunroof, a digital instrument cluster, an eight-inch infotainment screen, and a premium audio system all coming as standard. Extras would be a tow-bar and three-zone climate control.
The Tiguan R is in line with Volkswagen's plan to expand its SUV lineup. This new Tiguan R will follow the T-Roc R, a mini-performance SUV with the same 2.0-liter turbocharged engine that was unveiled at the Geneva Motor Show. The T-Roc R and the Tiguan R also have similar interior specifications.
We expect the Tiguan R's debut before or during the Frankfurt Motor Show in September.