Tag Archives:
Tokyo Motor Show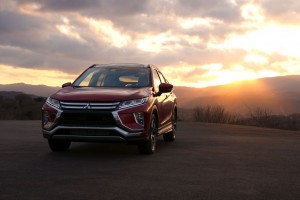 The new Mitsubishi Eclipse Cross was just unveiled. Let us take a look at the features, photos and other important stuff about the new sport utility vehicle of the giant Japanese automaker here.
1. Model Year
The new SUV will be carrying a 2018 model year.
2. Design
The Eclipse Cross features a sportier and more stylish appearance compared to the other SUVs of Mitsubishi. The auto borrows many elements found in the Mitsubishi XR-PHEV concept shown at the Tokyo Motor Show in 2013.
The front grille and headlamp layout of the Eclipse Cross also remind us of the ones found on the Mitsubishi Concept XR-PHEV Evolution. It should be noted that car was featured in the virtual world of the Gran Turismo 6 video game released in 2013 for the Playstation 3. It was said to be an extension of the XR-PHEV concept.
The interior of the SUV showcases black leather surfaces matched with silver accents highlighting its important elements plus red stitching on the seats. A central display can be found in the middle of the dashboard with tablet-like design. The automaker claimed too that the rear seats of the vehicle offer a 60:40 split.
3. Engine
Two options are available for the powertrains of the Mitsubishi Eclipse Cross. One is a 1.5-liter turbo petrol engine and the other is a 2.2-liter turbo diesel unit. The engine is paired with a four-wheel drive system.
4. Position in Hierarchy
The Eclipse Cross will bridge the gap between Mitsubishi's Outlander Sport and the mid-size Outlander unit.
5. Debut
The debut of the 2018 Mitsubishi Eclipse Cross is scheduled on March 7 at the Geneva Motor Show.
6. Sale
The SUV is expected to hit Mitsubishi showrooms in the early part of 2018. Its market release in the US will probably come at a later date.
7. Photos
Check out the photos of the 2018 Mitsubishi Eclipse Cross in the gallery below: