Tag Archives:
Toyota FJ Cruiser
With 2014 becoming the year of small to midsized SUVS, the emergence of 2014 Jeep Wrangler seems like a welcome relief. To begin with, it is a complete no nonsense vehicle and remains at its best to keep its tradition even when the pavement ends. The classic SUV from Jeep is powerful enough to climb rocks, frolic in sand dunes or even cross streams whenever required just to please its passengers. Its standard four wheel drive feature and excellent ground clearance makes it a complete off road vehicle for those who love adventure.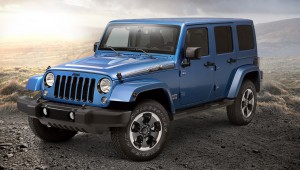 The only thing that you cannot expect from a Jeep Wrangler is comfort, even though the 2014 version is being talked highly as the most civilized version from the lot, the Wrangler is noisy and rough which are absolutely not the features of a midsized SUV falling in this price range. However, if you are among those who love to spend weekends off road then surely 2014 Jeep Wrangler is your best bet. It is undoubtedly the most versatile kind of SUV you can find in the market because it gives you complete liberty to choose between its two and four doors, along with detachable roof, doors and even a windshield if you want to make your ride a little airy from all sides. It is arguable that whether you would like to drive Wrangler on road without these special features, but it is recommended to choose soft top cover over its heavy hardtop covers if you will be driving it al fresco for your daily chores. This will only make your 2014 Jeep Wrangler more vulnerable to thieves as removing and reinstalling these features can take a hell lot of time as well as patience. Now it's up to you how you take these additional features because for some they are charming while for others they are unnecessary and complete waste of time.
Of course, Wrangler has its own share of issues which cannot be brushed aside, wherein its long braking distance is a prominent one it's handling on paved roads is not as steady as you may find in other refined SUVs of this class. Still, driving 2014 Jeep Wrangler is fun because its short wheel base makes it quite easy to maneuver in tight spaces if you are completely fine with slowing down the steering. The powerful V6 engine of 2014 Jeep Wrangler is efficient enough and it comes with a host of factory options list to choose from along with easy availability of aftermarket parts supplied by several independent companies.
If you are not completely satisfied with the rugged off road capabilities of Jeep Wrangler, then it will be good for you to actually take a long test drive of the vehicle because without that it will be difficult for you to understand how cool this compact cross over is despite being almost the same as the earlier versions, the few tweaks have made it better than other livable crossovers like Nissan Xterra or Toyota FJ Cruiser, which are also a good option only if you want to drive them on regular basis. If you want to get back to basics and nature as well then surely 2014 Jeep Wrangler is a perfect bet.
As the market bids adieu to the Toyota FJ Cruiser this year, the automaker is set to bid adieu back by releasing a special edition of the FJ Cruiser. The 2014 Toyota FJ Cruiser will be an off roader at its heart. This Ultimate Edition of the Cruiser will be limited, translating to only 2,500 vehicles of the type. Dipped in the hue of Heritage Blue, this limited edition of the Toyota FJ Cruiser will feature a color matched roof as well.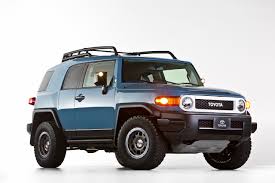 Toyota has been an automaker known well for its safe playing, incorporating more conventional designs in its releases. In a scenario like that, the Toyota FJ Cruiser is an oddity, and a nice one. The FJ Cruiser is a funky coupe that still proudly boasts the retro and quirky styling even after eight years since its debut. And don't let that fun styling fool you. The emblematic styling of the Toyota FJ Cruiser conceals some amazing off road potential. This makes the 2014 Toyota FJ Cruiser an amazingly uncommon vehicle, not just among all the other Toyotas but also among all the SUVs in the market. It is extremely sad to watch such a wonderful vehicle leave.
The 2014 Toyota FJ Cruiser boasts a 4.0 liter V6 engine that is good for 260 ponies and 271 pound feet of twist. The standard FJ Cruiser comes with a five speed automatic transmission coupled with a rear wheel drive. The all wheel drive systems come in two options. While one is a four wheel drive system clubbed to the five speed automatic, the other is a full time all four wheel drive system coupled with a six speed automatic transmission along with a rear locking differential.
There are no trim levels for the 2014 Toyota FJ Cruiser. This unique vehicle remains unique in every possible sense. The five passenger vehicle cruises on 17 inch steel wheels. Taller than the conventional five seater SUVs, the 2014 Toyota FJ Cruises looks interesting due to its distinctive doors. In its very modest modeling, the Toyota FJ Cruiser sports full power accessories along with every other feature one could ever need. The Infotainment system of the 2014 Toyota FJ Cruiser is also an impressive collection of features. The additional features, according to one's need, can be availed in form of packages. There is the Convenience package that adds features like enhanced traction control, leather covered steering wheel and an 11 speaker JBL surround sound system. An option of 16 inch alloy wheels also prevails.
The Trail Teams Ultimate Edition package will make a grand entry later this year and it will add to the FJ Cruiser, a tuned TRD suspension, especially for the model. This model would roll on 16 inch bead-lock tires that compliment the off road terrains beautifully. The Trail Teams Cruiser will be painted in Heritage Blue and will encapsulate a majority of the features from the above told packages.
The 2014 Toyota FJ Cruiser seems to have gotten the best it could be. While the news of a such a vehicle taking retirement, left many SUV lovers crestfallen, the fact that it leaves with a bang, is a happy note to say goodbye on.