Tag Archives:
Toyota iM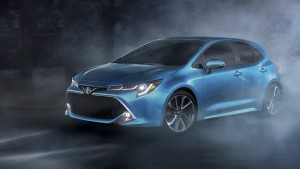 There were huge expectations on the coming of a new Toyota iM, and though this is closely related to that, the new Toyota Corolla Hatchback still sits on its own little niche. According to the guys over at Toyota, this new hatchback is designed to be a "driver's car," and is set to make a huge impression.
Powertrain
The new Toyota Auris came with only one non-hybrid drivetrain—a 1.2-liter engine. The Toyota Hatch, on the other hand, will come with a naturally aspirated 2.0-liter engine that has some "decent power on demand," reports speculate. There are no details yet regarding the horsepower and the torque, but we're pretty sure they'll be at least decent.
Exterior And Platform
There's a big improvement in terms of the overall size of the hatchback. According to reports, the hatchback has been lowered by one inch, stretched out by 1.5 inches, and widened by 1.2 inches. It has a longer wheelbase compared to the Corolla iM, and there are wider tracks in the front and rear. There are two options for the wheels—a 16-incher and an 18-incher. You can also have it either in manual transmission or in CVT but with 10 simulated gears, a launch gear, and a paddle shifter.
Toyota will use its TNGA platform for this hatch. They also added a host of safety features such as AEB with pedestrian detection, lane departure warning with steering assist, lane tracking assist, and radar cruise control. There will likely be additional features when the hatchback is released, but these are cool enough for a start.
The upcoming Toyota hatchback is being set up for a summer release as a 2019 model. There's no word yet on how much this will cost, but we're sure we'll find out in a couple of months, so better ready those wallets.