Tag Archives:
Toyota RAV4
2014 Toyota RAV4 is one such small crossover that has become quite popular among the masses because of very petty reasons, which anyone would have never thought will become so important for a shopper who is planning to buy an SUV for family. In spite of relatively small dimensions, such small SUVs are gaining momentum because of the useful pace they offer to small families and singles looking forward to own an SUV. Small crossovers like 2014 Toyota RAV4 are easy to drive on the bustling city roads and they return respectable fuel economy, which is actually an important factor for those buying SUVs on budget. There is no denying that small SUVs are the perfect choice for modern people who are on the go all the time. Although, 2014 Toyota RAV4 is not a favorite among reviewers going by the class, but you will find that it fulfills almost all the small SUV requirements of an average shopper.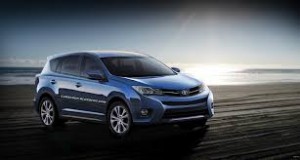 Toyota's RAV4 come with five passenger seats option which is also its biggest asset because its driver and passenger room are excellent as well upfront. Its rear seats are good for adults as well because they will not make them feel cramped while on short trips. Large cargo space offered by 2014 Toyota RAV4 will surely be appreciated by those who love to travel with their pets and bulky gear. Low load floor and power liftgate are also additional advantages of RAV4 which are still not very common in this class of SUVS. If you fold down the rear seats, Toyota RAV4 has the largest cargo space to offer in this class with exceptional 73.3 cubic feet space.
While on the move, RAV4 offers easy see out feature and remains steady while turning and remains comfortable while cruising speedily on the highways. However, the acceleration for Toyota RAV4 2014 remains average for such a compact sized crossover and it also doesn't comes with an optional engine upgrade which is quite common in other small SUVs, so you have to settle for meager 2.5 liter four cylinder engine, which is common across all trim levels. Fuel economy ratings are considered good, but are not class leading thus can also be taken as a lack luster feature.
Going by the quality of competition 2014 Toyota RAV4 faces in its class of crossovers, it will be good if you can look for other worthwhile options like 2014 Honda CR-V, which is known for its versatility and proudly dominates this class of SUVs. Although it is not as remarkable as other rivals but still it is comfortable, fuel efficient, roomy cabin, quit, offers handy convenience and comes with several clever storage options which make it a better choice over 2014 Toyota RAV4.
If you want to have fun while driving then surely Mazda CX-5 is an ideal choice for you because it has luxury interiors with entertaining driving experience for such a compact crossover. Other close competitors for 2014 Toyota RAV4 are 2014 Ford Escape and Jeep Cherokee as they are excellent to drive off-road and also come with V6 engine option.
Vehicle models that haven't changed for a long time are often seen as outdated or comparatively less desirable, but the 2014 Volkswagen Tiguan R-Line marks a notable exception in that case. This SUV has been on sale for almost six years now and still, without a major redesign, the little crossover from VW remains one of the most rewarding vehicles in its segment. With the already present 4 trim levels namely, S, SE, SE with Appearance and SEL, this year the sport new R-Line debuts as the top-of-the-line trim level for the 2014 Volkswagen Tiguan.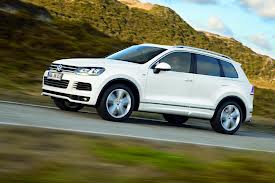 The 2014 Volkswagen Tiguan R-Line is powered by a turbocharged 2.0 liter four cylinder engine good for 200 horsepower and 207 pound feet of torque. Enhancing the driving experience is a six speed automatic transmission mated to the engine. While the standard Volkswagen Tiguan R-Line comes with front wheel drive, the all wheel drive (also called the 4Motion) is optional. The automatic transmission accelerates the vehicle from rest to 60 mph in a sprint time 7.5 seconds, which is pretty impressive for a crossover in this niche. EPA-estimated fuel economy rates 23 mpg combined, 21 city/26 highway for the front wheel drive model. The all wheel drive model returns the same 23 combined (20/26).
The 2014 Volkswagen R-Line rocks 19 inch alloy wheels, adaptive bi-xenon headlights with LED running lights, a sport tuned suspension, LED license plate illumination, automatic wipers, power folding exterior mirrors, full power front seats, driver memory functions, leather upholstery, special interior accents which includes the R-Line steering wheel with paddle shifters and an auto dimming rearview mirror.
The sporty body kit of the 2014 Volkswagen Tiguan R-Line is stylish at the same time. Lines and contours on the sides perfectly complement the look of the SUV and the headlights just the right amount of oomph for the crossover. On the inside, the dashboard of the R-Line strikes with solidity and sophistication with supple materials in abundant supply. While the climate and audio controls remain well placed and easy to use, compact dimension of the touchscreen limit the amount of information that can be displayed, however, it offers a crisp, intuitive interface.
The 2014 Volkswagen Tiguan R-Line's turbocharged four cylinder engine hits the sweet spot. While the compact crossover faces tough competition with the Honda CR-V and the Toyota RAV4 in terms of cargo space, the R-Line boasts a stronger base engine and such a gratifying acceleration that more power seems unnecessary. R-Line feels a little sportier when driven around turns, all credits to its firmer suspension tuning. This vehicle is primarily about comfort and that is all you can experience while driving the 2014 Volkswagen Tiguan R-Line. The way this compact crossover drives with its refined cruising character, it invites comparisons to luxury crossovers. While the fact prevails that this luxury compact crossover doesn't come cheap at all, every single compliant and exceptionally hushed ride in the 2014 Volkswagen Tiguan R-Line will testify for every little penny you spend on this work of art.