Tag Archives:
truck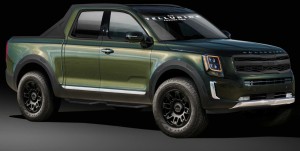 Kia's chief operating officer Damien Meredith confirmed that Kia will have its own pickup truck, following the footsteps of the Hyundai Santa Cruz concept pickup. The development of the Kia pickup truck is now underway with Meredith saying it will probably debut between 2022 and 2023. This is the same schedule that the Hyundai set for the Santa Cruz.
According to an interview on CarsGuide, the South Korean automaker is planning for a dual-cab, single-cab for the pickup truck. That also includes a dual cab with diesel and petrol options. In Australia, Kia's executives are confident that this utility vehicle will do well in their market. In a country with a high percentage of sales in the segment, Meredith believed Kia can take a huge chunk of the market there; about 8 to 10 percent market share.
He didn't reveal anything more about the new Kia pickup but if it will be available to the US market, we doubt very much it will take all its variants with it. Most probably, Kia will only offer the truck with gas engines. The powertrains will be shared with the Santa Cruz, but to distinguish itself from its South Korean cousin, Kia will use a different engine, transmission, and chassis calibration.
The renowned Kia-Hyundai new family of Smartstream will also be likely used in the pickup trucks from both companies.
Both pickup trucks will be compact in size. Kia's, however, might belong to the smaller segment because Santa Cruz will be sharing its underpinnings with the next-generation Tucson, which is a compact crossover. The Santa Cruz and the upcoming Kia pickup truck will compete in the midsize trucks market, though some may prefer the larger body of the Santa Cruz.
As for the Kia pickup truck, try to imagine it being like the Subaru Baja and the first-generation Ford Ranger. It'll be nothing like the Honda Ridgeline and Chevrolet Colorado.