Tag Archives:
Turin Motor Show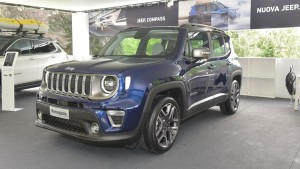 When the Jeep Renegade debuted back in 2014, it easily became a favorite because of its city-friendly design and off-road capabilities. After four years, Jeep decided it's time to redesign the Renegade, which showed off its new looks at the Turin Motor Show in Italy.
Sleeker and more modern, the new Renegade will feature an updated grille, snazzier lights, and a new set of powertrains.
Updated Grille
One of the first things you'll notice about the new Renegade is the changes on the front grille. The vertical chrome bars are the same, but they are now thinner and they still divide the grille into seven square sections.
Snazzier Lights
Both the headlights and the taillights are more stylish on this new Renegade. Wasn't it just a few days ago that Jeep teased the Renegade's new taillights? This would redesign the whole look of the Jeep's rear end and would somehow be the highlight of the differences that separate this new Renegade from the previous model.
There's an "X" inside each lamp but this one is bigger and more prominent than before, plus the black surround is no longer bulky. In the center of the light, there might be a Jeep grille. Aside from the headlights and the taillights, Jeep also redesigned the lower vents and repositioned the foglights.
New Powertrains
Jeep said it would have new engines for the European market (we have no word yet about the US market). The new engines include a 1.0-liter engine that produces 120 horsepower and a 1.3-liter engine with 150 horsepower or 180 horsepower, depending on the configuration chosen by the buyer.
Specifications of the Jeep Renegade for the US version are not available yet, but the current model in the market offers 1.4-liter turbo-four that churns out 160 horsepower or the optional 2.4-liter I-4 with 180 horsepower.