Tag Archives:
value edition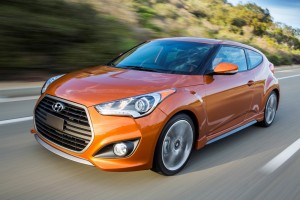 If the price tag of the regular Veloster is too much for you, then it's time to check out this new Hyundai Veloster Value Edition. The South Korean automaker decided to release a value-packed edition for the popular Veloster, allowing the vehicle to become the choice for an everyday car.
Many of the options in the regular Veloster are now standard with the value edition, according to a report. This one has a starting price of $21,350, so you're looking at a savings of $950 compared if you add all the options individually. The starting price for the regular Veloster without the add-ons is $18,100.
Extras That Are Now Standard
The options for the regular Veloster that are now standard to the value edition package are the six-speed dual-clutch transmission, 18-inch alloy wheels, proximity key with push button start, Apple CarPlay and Android Auto smartphone integration, a panoramic sunroof, and a premium sound system with eight speakers and a subwoofer.
Powertrain Is Same As Regular Veloster's
The Value Edition will come packing the same engine fitted in the regular Veloster. That's a 1.6-liter inline-4 that can produce 132 horsepower and 120 pound-feet of torque. Those who want the extra power needs to upgrade to the Veloster Turbo, which has a 1.6-liter turbocharged inline-4 that produces 201 horsies and 195 lb-ft of torque.
The Veloster Turbo is also fitted with a seven-speed dual-clutch transmission instead of the standard six-speed manual.
Next-Generation Veloster Is Being Tested
Hyundai is already testing a next-generation Veloster, which will be redesigned to better compete with its counterparts in the market. The next-gen Veloster will be bigger in dimensions. It may even walk away from the three-door layout of the current Veloster and make it a two-door the way a proper coupe should look like.
The debut of the next-gen Veloster should be sometime in 2018.