Tag Archives:
Veloster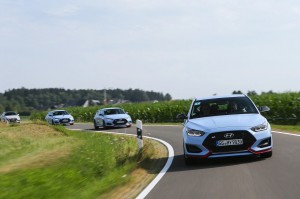 The 2019 Hyundai Veloster N is ready to take on the best hatches in its segment. Though it only has three doors, it looks to compete with the likes of the Volkswagen GTI and the Subaru WRX. With just a starting price of $27,785 for the base model, Hyundai has absolutely won the pricing segment.
The base version gets a 250-horsepower output compared to the VW GTI's 220 horses produced from under the hood. That power for the Veloster is credited to a turbocharged 2.0-liter engine and a suspension developed by the former head of BMW's M division. For a base price of $27,785, including destination fee, that's a pretty good deal. That's only a few hundred dollars higher than the VW GTI but the Veloster wins when it comes to the power output.
You have the option to add the Performance Package and you'll have a better performance output. With just an additional $2,100, you'll get 275 horsepower, a limited-slip differential, modular exhaust system, bigger brakes, 19-inch wheels, and sticky Pirelli P Zero tires. The Performance Package brings the total price of the Veloster N to $29,885.
With Ford's decision to cancel its Focus ST, the Veloster N remains to be the only car in the market that can compete with the Subaru WRX. Of course, Hyundai's offering does not come with an all-wheel-drive option, so that will make buyers think of the Veloster N as a budget-priced Honda Civic Type R instead.
Price-wise, the Veloster N would be a good choice compared to the Civic Type R's base price of $36,595 after an increase of $1,000 on the base price recently.
The Veloster and the Veloster Turbo are currently available. As for the Veloster N, you'll have to wait until December for it to arrive in dealerships nationwide.