Tag Archives:
Veyron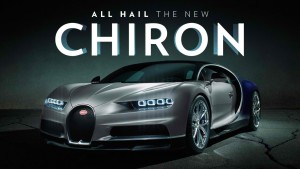 The day has finally come when the Bugatti Veyron is no longer the world's fastest production car. The usurper came from within—in the form of Bugatti Chiron that caused £1.9 million.
According to Top Gear, the Chiron retains the Veyron's fundamental proportions and powertrains, but is also new in every way and is built to bend physics almost to breaking point. But unlike Veyron's closest competitors—the McLaren P1, LaFerrari and Porsche 918—the Chiron is not a hybrid but relies on the use of fossil fuels.
It has an engine developed from the Veyron's 8.0-liter quad-turbo W16, a seven-speed twin-clutch gearbox, and it makes use of all four wheels.
Wolfgang Durheimer, Bugatti's CEO, explained that they could not produce the Chiron as a hybrid because it would've added weight and it would've suffered from package constraints. The Chiron doesn't have space anymore for additional stuff, and adding space would've changed the styling.
With Chiron, Bugatti raised the power by 25 percent, the aerodynamics, the road holding, and the top speed. Remember the Veyron Super Sport? That produces 1183 bhp and 1106 lb-ft of torque. Chiron comes with 1479 bhp and 1180 lb-ft of torque. At a constant top speed, Veyron could drain its 100-litre fuel tank in 12 minutes. The Chiron can do that in 9 minutes tops.
The Chiron can also accelerate from 0-62 mph in less than 2.5 seconds, 0-124 mph in less than 6.5 seconds and 0-186 mph under 13.6 seconds—the last one shows Chiron's 2.9 seconds faster than the P1 and a second quicker than the Veyron Super Sport.
At top speed, the Chiron can do 261 mph, 3 mph more than the Veyron Super Sport. Its engine has four larger turbos that can deliver the maximum torque from 2000 to 6000 rpm. It also packs a new titanium exhaust system and six exit pipes—four at the back and two pointing downwards to create a blown diffuser.