Tag Archives:
viziv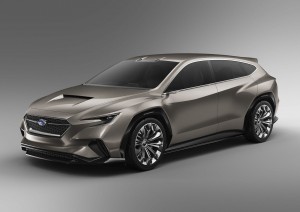 It has been years since we last saw Subaru come up with a new model as it has been busy showcasing new design features under the Viziv name. After introducing the first concept in 2013, Subaru has launched a new one every year since then. This latest concept is called the Subaru Viziv Tourer and it was introduced during the 2018 Geneva Motor Show.
1. Exterior
Just like its predecessor, the Viziv Tourer will use the company's new Dynamic X Solid design language, though this one is a bit more aggressive than past concepts. In front, there's the same hexagonal grille but the headlamps are sharper and the fender vents have muscular surrounds. There's an aggressive splitter on the lower bumper that's made from carbon fiber, as well as the wheel arch inserts and the side skirts.
There are no door handles and the side mirrors have been replaced by cameras. The overall profile is that of a sporty hatchback with a sloping roofline and quarter windows.
2. Interior
We don't know anything yet about the interior of this new concept from Subaru, though we heard that it has a four-seat layout for maximum comfort. This configuration, of course, will remain with the concept as this could not be carried over to a production model. We all know that wagons and hatchbacks must provide seating for five passengers, at the very least.
Tech features include the EyeSight system, a new radar system, and a new GPS and navigation system. All of these would work to give the car semi-autonomous driving assistance and eliminate accidents.
3. Drivetrain
The Tourer will be a gasoline-only vehicle. It will be powered by a boxer engine, but that's as far as we're able to know. The Japanese automaker has yet to reveal output details of that said engine. Interestingly enough, Subaru chose to keep hybrids and electric engines out of this concept. Some Viziv concepts were hybrids, but the Tourer will only be running on gasoline.