Tag Archives:
volkswagen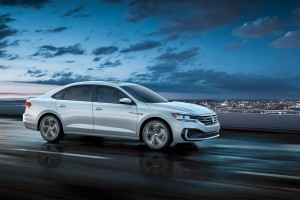 Despite the strong preference of buyers for sport utility vehicles over cars, and with the likes of GM and Ford abandoning their sedan segment in the U.S. in favor of the bigger autos, Volkswagen promises to keep on offering their cars in the market.
"While some brands have walked away from car sales, we are focused on making smart decisions in this segment which is still a big part of the market," said Volkswagen during its special media event today in Michigan. With that, the brand will continue selling the Jetta, Arteon, and Passat in the country.
During the event, the German automaker also revealed some of its plans for its SUV range. The company stated that it will be introducing an electric compact SUV in 2020. No names were dropped but we have a reason to believe that it might be the ID.4 we spied a few months ago.
The ID.4 will be based on the ID.Crozz concept. The electric crossover is expected to deliver up to 300 hp from its twin-motor specification.
Volkswagen hinted at another crossover that will be positioned below the Tiguan in the company's hierarchy. The auto will be their answer to the likes of the Jeep Compass, Nissan Rogue, and Kia Sportage in the summer of 2021. Some suspect the unit to be based on the Nivus, which will be assembled in Mexico for the North American region.
Lastly, Volkswagen confirmed a facelifted model of the Atlas for 2021. Aside from the minor refresh in the exterior, the SUV will be getting a new steering wheel, touchscreen display measuring 8 inches, and updated driver assistance system. The unit will be longer by three inches too. It wasn't clear though whether the new figure will translate to more legroom in the vehicle's cabin.