Tag Archives:
Volvo XC60
Ever since the concept of family vehicles has been introduced in the automobile world. They have been enjoying the reputation of being boring and the same becomes quite evident when we talk about something bulky and downright sober like a Volvo. The family vehicles from Volvo have been carrying the burden of being traditional with features like cinder block styling, ultra sensible nature and sleepy driving dynamics. But for 2015, Volvo has come up with something absolutely different from what they have been catering to till date- 2015 Volvo XC60.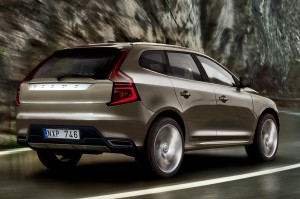 The 2015 Volvo XC60 has already been in the market for some time and has always been appreciated for its sleek exterior design, stylish cabin space and engaging driving dynamics. Above all these, the characteristic attributes if this Volvo SUV make it a sensible vehicle with exceptional family friendly features and space, beautifully complimented by excellent crash test scores. For 2015 Volvo has made its Xc60 even more appealing with the addition of all new four cylinder engine, which is capable of providing energetic acceleration and amazing fuel economy for its class. The latter has been aided by the new and equally efficient eight speed automatic transmission system and refined automatic engine stop start system. Unfortunately, 2015 Volvo XC60 will be providing these features only for the front wheel drive models, whereas the old machines with six cylinder engine and six speed automatic transmissions will continue to come with all wheel drive feature. The difference in the fuel economy of both the engine versions is quite evident and also the acceleration which becomes even more powerful with laggardly 3.2 AWD model.
The front wheel drive 2015 Volvo XC60 has new engines for its trim levels along with the inclusion of moniker Drive E. the T5 Drive E trim level is occupied with turbocharged 2.0 liter four cylinder engine, whereas the T6 Drive E will come with novel turbocharged and supercharged 2.0liter four cylinder engine. Both these powerful engines of 2015 Volvo XC60 are accompanied by the equally powerful eight speed automatic transmission system and automatic start stop engine, which is standard. With all these enhanced features XC60 manages to achieve segment leading fuel economy numbers.
With the exception 2015 Volvo XC60 has made in the budding compact luxury SUV segment, we certainly don't mind recommending it as one of our best choice among the top 2015 compact luxury crossovers. One of the primary appeal of this vehicle is its well rounded nature, which makes it a perfect competition for some of the other crossover belonging to the same class, moreover with all the distinctive styling and additional features, Volvo has still not lost its family hauler charm, which makes it an ideal family friendly car. Some of the key competitions for 2015 Volvo XC60 are 2015 Acura RDX which is also a family friendly SUV, fuel efficient and extremely stylish Audi Q5 and  appealing 2015 BMW X3. You may find Volvo a bit pricey, but with the features it comes packed with you won't mind spending a bit extra for some great family time.
The German automaker Audi argues that the Q5 boasts interiors of a luxury car, the handling of a sport sedan, and the ground clearance of a crossover SUV. Interestingly, the brand never needed to argue since the 2014 Audi Q5 actually blends the three of the above qualities and is one of the most loved compact luxury crossovers in its class. For 2014, Audi Q5 lineup welcomes the addition of a powerful yet fuel efficient turbodiesel model while the base 2.0 liter gets a power upgrade to 220 horsepower. Rest updates are confined to equipment changes across various trim levels.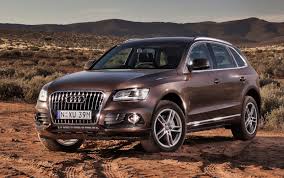 The 2014 Audi Q5 2.0T comes standard with all wheel drive and a turbocharged 2.0 liter inline four cylinder engine good for 220 horsepower and 258 pound feet of torque. An eight speed automatic transmission comes as standard. EPA estimated fuel economy is 20 city/28 highway and 23 mpg combined. The Q5 2.0T accelerates to 60 mph from rest in a sprint time of 6.8 seconds which is a performance on par with the Audi's peers. The Audi 3.0T sports a supercharged 3.0 liter V6 engine that generates 272 horsepower and 295 pound feet of torque. Along with the standard eight speed automatic transmission, an automatic stop-start system saves fuel by shutting off the engine when the car comes to a halt. This 3.0T engine is capable of accelerating the Q5 from 0 to 60 mph in just 5.8 seconds which surely is a very quick time for a vehicle in this class. Fuel economy estimates stand at 18/26/21. Next in the lineup, the Q5 3.0 TDI features a 3.0 liter turbocharged diesel V6 good for 240 hp and a whopping 428 pound feet of torque. The automatic stop-start system is standard. The brand claims a sprint time of 6.5 seconds for a 0 to 60 mph acceleration while fuel economy estimates stand at 24/30/26. Lastly, Q5 Hybrid pairs the 2.0T's engine with an electric motor and a battery pack and generates an output of 245 hp and 354 lb-ft of torque.
The 2014 Audi Q5 sports classy interiors and top notch construction. Despite its compact size this crossover manages to deliver a roomy experience whether you're seated in front or rear seats. The rear seats slide fore and raft, which is a rarity in this segment of luxury crossovers.
The SUV delivers smooth, powerful acceleration and the eight speed automatic transmission is refined and responsive. As the brand "argues", the handling is excellent. The steering is similarly quick and responsive but is said to have a rather artificial feel. One rather funny or annoying thing about the Q5 is its random refiring since the automatic stop-start system doesn't keep the engine off at very long traffic lights.
While the compact luxury crossover faces head to head competition with models, like the roomier Volvo XC60, the equally excellent handling and performance boasting BMW X3 or the even more stylish Land Rover's Range Rover Evoque or the mpg driven Mercedes Benz GLK-Class, the 2014 Audi Q5 is a candidate that does everything well and hence becomes an ideal choice!