Tag Archives:
vulcan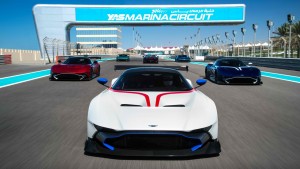 You may want to change your laptop and phone wallpapers now with the Aston Martin Vulcan as it lands to wow just about every living thing on the planet.
But, of course, if you're one of the 24 lucky customers who managed to shell out £1.8 million for Aston's 820 bhp, 7.0-liter V12-engined ode to the tracks, then you'll get a firsthand experience on how to maneuver the Vulcan.
Hold still, though, the company just doesn't hand you over the keys to this kind of powerful machine. It teaches you to fall into it by tutoring you how to handle the Aston martin V12 Vantage S and the Vantage GT4 racer first.
The first set of customers has undergone the same process, the company said, which took place at Abu Dhabi's Formula One circuit. Each driver was given a passenger-side instruction to learn each lap. They were tested day and night to experience the car in different conditions.
The Aston Martin Vulcan is basically a high-end machine created for thrill-seeking billionaires. And although it is prudent to talk about the car's oil system, it is also worth noting that the Vulcan has a plug-and-play lubrication system, making it possible to do a full oil change in 10 seconds.
Fraser Dunn, chief engineer of Aston's Aston's Q Advanced Operations Center in Wellingsbourne, England, said that Castrol's Nexcel system was used in the Vulcan. The system is a box that includes both oil and filter elements to effective act as reservoir for a dry-sump lubrication system.
It allows the machine to offer a mess-free oil change by simply removing a Nexcel unit and putting in a new one. The system cuts maintenance times, especially since a car like this can be stored for extended periods between runs in the tracks.
Only 24 of these track-exclusive machines were released to adventure-lover billionaires, so seeing one on a track is a sure way to get your blood pumping.
Source: TopGear