Tag Archives:
wagon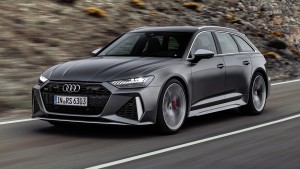 There's something about Audi and their high-performance wagon that just gets us all excited. The 2020 Audi RS 6 Avant wagon is coming to America, so that makes it all the more exciting. The wagon has a claimed 0-60 acceleration time of less than 3.6 seconds and the engine it comes packed with can produce 591 horsepower.
The 2020 RS 6 Avant is a fourth-generation model that aims to give a shoutout to the original RS formula founded in the 1990s. This is the most aggressive-looking RS wagon ever to come out of Audi's factories. It has sporty front and rear design elements that would surely be a win to a lot of Audi fans.
Under the hood, the Audi RS 6 Avant has a muscular 4.0-liter twin-turbo V-8 unit that generates 40 horsepower more than its previous iteration. It comes with 590 pound-feet of torque from 2,100 rpm to 4,500 rpm. That's an increase of 74 pound-feet. Aside from its famed acceleration time, Audi said the new RS 6 Avant will hit the top speed of 124 mph in just 12 seconds.
Audi also fitted the RS 6 Avant with a mild-hybrid engine. Its 48-volt alternator starter system can store up to 12 kW of electrical energy. It can power the engine to speeds up to 14 mph and coast the road for 40 seconds with the engine shut down and at speeds between 35 mph and 100 mph if the driver decides to lift off the throttle. The engine is paired with an all-wheel-drive system and sports an eight-speed automatic gearbox.
The 2020 Audi RS 6 Avant, the first model of which was launched in 2002, is 3.15 inches wider than the standard A6 Avant and 0.8 inches wider than the previous RS 6 Avant. The new model has a wider track and massive 21-inch wheels, though buyers can opt for 22 inches.
US customers have to wait a while longer as the RS 6 Avant will arrive here in the third quarter of next year.