Tag Archives:
x-class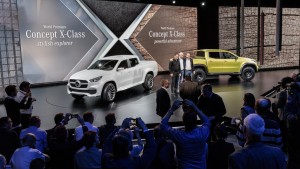 For a vehicle that just made its debut in 2017, the Mercedes-Benz X-Class luxury pickup truck is relatively new in the automotive scene. Before it could even get a mid-cycle facelift though, its maker officially announced that it will be axed from the production line this year.
In 2019, Mercedes managed to deliver 15,300 units of the X-Class worldwide. However, the numbers fell by 1,400 units compared to its sales between 2017 and 2018. The figures may be impressive for a niche product, but these failed to impress the Daimler board. As a result, they have decided to strike down their future plans for the pickup. As of the moment, those who will visit the website of Mercedes will already notice that the X250 and X220d models of the vehicle have been removed from its online configurator. Only the X35d, a V6 diesel version of the auto, is available on the site.
Mercedes also revealed that the X-Class is only important in some markets like Australia and South Africa. There used to be a plan that the vehicle will be assembled in Argentina for South American buyers too but it was scrapped citing that it was no longer "economically viable".
The company explained that the pickup was just too expensive compared to its rivals and the vehicles whom it shares underpinnings, namely the Nissan Navara and the Renault Alaskan. Crunching the numbers, the X-Class starts at €48,790 in Germany, which is €16,000 more than the price of the Navara and €4,000 up against the cost of an Alaskan.
The days of the Mercedes-Benz X-Class are numbered. Mercedes will discontinue the unit in late May of 2020.