Tag Archives:
x-trail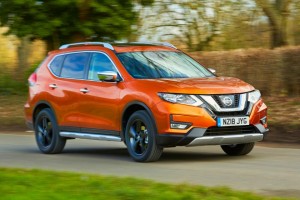 Nissan revamped the X-Trail's engine lineup, introducing new petrol and diesel options, as well as an all-new dual-clutch transmission. Buyers can now get to choose either a 1.7-liter four-cylinder diesel or 1.3-liter four-cylinder petrol, both of which are already available in the Renault-Nissan Alliance line-up, particularly in the Nissan Qashqai and Renault Kadjar SUVs.
The 1.7-liter diesel engine makes 148 horsepower and 340 Nm of torque, replacing the SUV's former engine—a 1.6-liter four-cylinder diesel that has a standard front-wheel drive and a six-speed manual transmission. The new engine will have a carbon dioxide emissions rating of 137-143g/km.
Those who want a four-wheel drive configuration will be happy to know this is now available as an option for the diesel engine. But opting for the all-wheel drive will affect the energy rating and fuel efficiency of the engine. The economy figure will drop to 39.8mpg from 41.5mpg while CO2 emissions rating will fall to 151-154g/km.
The new 1.3-liter petrol option will only be available with the DCT gearbox in the front-wheel-drive layout. It will replace a similar 1.6-liter petrol engine and will bring more power at 161 horsepower from 158 horsepower and 270Nm of torque instead of 240Nm. The Japanese carmaker claims that energy efficiency and emissions ratings have also been improved. The ratings now stand at 145–154g/km of CO2 instead of the old engine's 162g/km of CO2.
Nissan also released price information about the new petrol and diesel engines. The 1.3-liter four-cylinder petrol unit will start from £26,590 ($34,787.72). The 1.7-liter diesel with its front-wheel-drive configuration will start at £25,795 ($33,747.62) but the four-wheel drive version will add an extra £3,200 ($4,186.56). Both of these engines are compliant to the Euro6d-Temp, which means car owners won't have to pay an additional 4% surcharge over the mandatory Benefit-in-Kind (BiK) tax.