Take A Long Look At These 2020 Mercedes-Benz GLE Coupe Spy Shots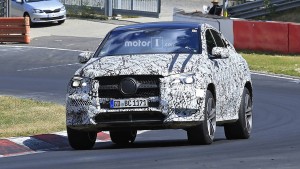 Ten years ago, BMW single-handedly introduced this weird coupe-SUV segment by launching the original X6 and following that up with the model's third generation due next year. On the other side of the coin, Mercedes is doing a similar thing with its Mercedes-Benz GLE Coupe.
Whatever this niche is called, we're sure about one thing: it's a premium segment and one that has attracted family-car-loving people. The higher seats plus the better legroom and headroom in the cabin make this car such an enticing prospect for families to have.
Mercedes, particularly, is going all the way with the production-bodied prototype of the GLE Coupe spotted at the Nurburgring just this week. The spy shots show the second-generation model dressed in full camo attire but we can make out its aggressive styling.
Though it's completely wrapped in camouflage, we can see that there's a large rear spoiler attached to the tester, which is likely part of an AMG Line styling package. Both LED headlights and taillights appear to have a sleeker shape.
The GLE Coupe is riding high based on the photos, but that's likely because the air suspension is in the highest possible setting.
The vehicle will use Mercedes' MHA modular platform that was designed for crossover SUVs, so we should expect similar proportions with its predecessor. This platform, which debuted in the 2016 GLC, is closely related to the German company's MRA platform which is being used by the automaker's sedans and coupes.
There are no details about the drivetrains yet, but we expect to see Mercedes' latest inline-6 with mild-hybrid tech and a twin-turbocharged 4.0-liter V-8 reserved for the Mercedes-AMG GLE63 Coupe. There should also be a plug-in hybrid version in the future.
These engines should be paired with a nine-speed automatic and rear-biased all-wheel-drive system for all trim models.
The GLE Coupe will likely be revealed next year as a 2020 model. But before that, we can expect the debut of the GLE late this year or early next year.