Take A Look At The Tesla Model 3 EV's Debut In Beijing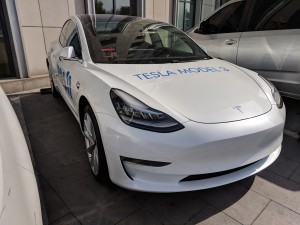 Tesla is giving Beijing a taste of its Model 3 as the latest EV vehicle from Elon Musk's company made its debut at the 2018 Beijing Auto Show. This came ahead of the official launch of the Tesla Model 3 in China and also before the company receives full authority to produce the vehicle in the market.
This is not the first Tesla Model 3 in the country, of course. Rich private citizens have already started importing the vehicle from the US, which is not recommended given the many different specifications in terms of wattage and outputs in the vehicle. We do know that US and China do not share the same power capacities and even format.
Still, the vehicle debuting at the Beijing Auto Show is the first one that Tesla itself brought to the Asian giant. But while Tesla is already introducing the vehicle to the Chinese market, it won't be seen in dealerships until next year, when it will have its official launch.
Reportedly, Tesla Model 3 will be available as an import from the US first much like the Model S and Model X. Tesla is working on domestically manufacturing the vehicles to save on cost and reduce the final price of the vehicle. Practically, this is a good move both for Tesla and the Chinese market. Logistic costs and import fees could double the cost of a vehicle that is essential in helping Chinese commuters reduce their carbon footprint.
Currently, Tesla's import duties is at 25%. This effectively limits the company's demand in the world's largest automotive market, though reports pointed out that Tesla's presence has grown significantly. To keep growing (it has the lead in foreign electric car sales in China), Tesla has to somehow convince the Chinese government to allow it to produce the vehicle domestically.