Talks on Ford and Volkswagen Merger Already Happening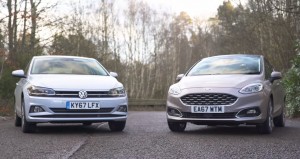 There have been rumors that Ford and Volkswagen have already begun talks about a potential merger. If the two forms a single company, it could become the largest in the automotive industry.
Last June, a Memorandum of Understanding (MoU) was signed by both Ford and Volkswagen. The event signaled the start of a strategic partnership between the two giant automakers.
According to Motor1, the agreement between Ford and Volkswagen includes co-developing commercial vehicles and coming up with ways to address the ever-changing demands of customers. However, some analysts suspect that the MoU has laid the foundations of a merger or equity swap between the two manufacturers.
The Detroit Bureau projected that a merger of the two could lead to fruitful results on both sides, especially in filling the weaknesses of each company. The analysis of the agency is that Volkswagen could benefit from the strong position of Ford in the American market, and it could get leverage in the sport utility vehicle and pickup segments of the US market. Meanwhile, Ford could address its weak points in the markets of Europe, Latin America, and China through the strong influence of Volkswagen in the mentioned regions.
The report added that a source said the deal is on a good timing. That's because Ford CEO Jim Hackett is certainly looking to make a "radical transformation" in the company.
Company insiders have also confirmed that talks between Ford and Volkswagen have commenced. For now, all we have to have to do is wait if the negotiations will yield favorable results for both automakers.