Tesla Increases Price of Mid-Range Model 3 By $1,000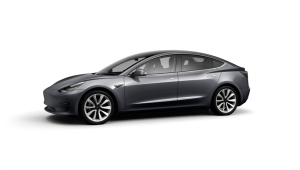 Tesla increased the price of its recently announced mid-range Model 3 by $1,000, bringing the new total to $47,200 from $46,200. This is not a major price hike, but it's unusual to increase the price of a car only a few days after it goes on sale.
The long-range dual-motor Model 3 will still start at $54,200, including destination fee while the mid-range rear-drive Model 3 will sell for the new price tag of $47,200. If you visit Tesla's online configurator, the price change is live there.
It was just last week that Tesla announced the sale of the mid-range Model 3 in a bid to make the electric vehicle accessible to more drivers. It did not specify a reason for the price increase, though.
The mid-range Model 3 has an estimated range of 260 miles and can run from 0 to 60 mph in just 5.6 seconds, or so at least it claims.
This model should not be confused with the long-rumored base Model 3 that will be priced at $35,000. Tesla boss Elon Musk said on Thursday that the automaker still can't deliver its promise of a $35,000 Tesla. While that is still their goal, Musk said there is still a lot of work that needs to be done in order to produce a $35,000 base Model 3 that will have a "positive gross margin."
During the conference call for Tesla's third quarter financial results, in which the company posted positive sales margin, Musk said that the base model might arrive in six months. Or at least, that's the timeline the Tesla CEO has given us for now. Previously, Tesla said that the base version of the Model 3 will be available as soon as four months but it looks like the plan will be delayed once more.
The company will also have to completely redesign a battery pack for the $35,000 Model 3 instead of repurposing a bigger battery like what they did for the mid-range model.