Tesla Model 3 Gets Five-Star Rating From NHTSA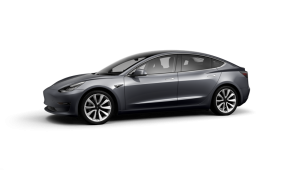 The 2018 Tesla Model 3 earned a five-star rating from the National Highway Traffic Safety Administration (NHTSA), acing its government safety evaluation. It got five stars overall and in every category it was tested on.
The NHTSA put the Tesla Model 3, a rear-wheel-drive model, through several tests: front driver side, front passenger side, side barrier (driver and rear passenger), side pole, and rollover crashes. Previous Tesla cars, the Model S and the Model X, were also rated five stars by the same agency.
On the other hand, the Insurance Institute for Highway Safety has not released a full rating for the Model 3, though it already got an "Acceptable" headlight score and the top score of "Superior" in front crash prevention. The Tesla Model 3 passed the tests due to its ability to avoid collision in both 12-mph and 25-mph examinations.
It's no wonder that the Tesla Model 3 was able to pass the NHTSA tests as it is offering a number of advanced safety technologies, including forward collision warning, lane departure warning, and automatic emergency braking.
Tesla has been suffering from a slew of bad press because of its inability to reach the production deadline of the Model 3. As it failed to meet its production targets, it also suffered greatly from building the Model 3 in an assembly line under a giant tent.
Earlier this month, Tesla CEO Elon Musk on Twitter revealed that the company has "gone from production hell to delivery logistics hell." This was jokingly hinted earlier this week when Musk answered a tweet from Twitter handle @megangale, who posted a photo of several Teslas lined up at the Union Pacific Railroad in SLC.
On Twitter, @megangale said that one of her cars are parked at the Union Pacific Railroad. "I've been told I was getting delivery the 8th, then the 15th, then the 20th, then the 22nd, and now my delivery has been delayed indefinite. Please make this right."
Musk then replied, "Sorry, we've gone from production hell to delivery logistics hell, but this problem is far more tractable. We're making rapid progress. Should be solved shortly."