Tesla Model 3 Will Receive The Air Suspension System In 6 Months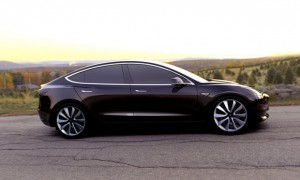 Ever since the release of the Tesla Model 3, everyone's eyes turned to boy wonder Elon Musk, the chief architect of this range of electric cars. But those who want to get their hands on the Model 3 have to wait for a while to get the best of both worlds.
Right now, Tesla Model 3 only has a few options such as colors, wheels, and the choice between a short- and long-range variant. Such a short list for a very popular vehicle, right? If you want another color than black, you will have to shell out extra for that.
The Model 3 is now in production with at least 20,000 units to be made available each month. Musk said that while this is happening, the "Smart Air Suspension" is continually being tested and will be fitted in the affordable electric car.
On Twitter, he answered a question about the release of the Smart Air Suspension. He told Twitter user Ryan McCaffrey (@DMC_R) that the feature will be made available on the Model 3 "in about six months or so." Musk revealed that it will also come with a dual motor configuration option.
The Tesla Model 3 configurator right now has the dual-motor, all-wheel drive variant scheduled to arrive in the spring of 2018. This works well with Musk's six-month timetable. He added that Tesla fans can also expect a performance version of the Model 3 sometime in 2018.
The Smart Air Suspension can raise or lower the car after it is enabled to learn and adapt to roadways. With the help of the onboard GPS, a road detail log is available. This allows the car to safely creep into unlevel driveways or places that require lower or higher ride heights.
The Smart Air Suspension option became so popular on the Model S and the Model X that it has become standard on later Tesla models. Before it became part of the package, you will have to shell out $3,000 for the option.
The options for the Model 3 won't be available until a few more months. Other options will become active in about a year or so.