Tesla Rolls Off First Model 3 As Mass Production Begins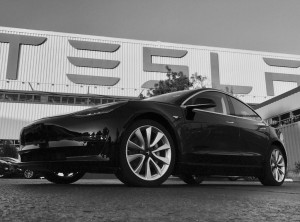 Tesla CEO Elon Musk has given car enthusiasts and experts a glimpse of the very first production version of the Model 3, the company's third production vehicle following Model S and Model X. Musk did well on his promise to start off mass production before the week ends as he tweeted earlier that Tesla plans to roll off 20,000 units by December 2017.
The Model 3 sits below the larger Model S, and is even more affordable with a suggested retail price of $35,000, excluding government incentives. The release of the Model 3 on Friday launched Tesla to a bigger market, where people are more interested to investing in electric cars, particularly the Tesla brand.
According to a tweet from Musk, the first Model 3, which he named SN1 (Serial Number 1), is completed and is on its way to the inspection board. "Production unit 1 of Model 3 is now built and going through final checkout. Pics soon."
The first Model 3 was supposed to be reserved for Tesla board member Ira Ehrenpreis, who was the first to place a full deposit for the model. But instead of taking the car for himself, Ehrenpreis gave the first-slot rights to Musk as a 46th birthday gift.
Ehrenpreis will instead have the rights to the second production car, the Tesla CEO said in a tweet. Musk did not reveal any updates about the Model 3's powertrain, but there should be more details in the coming weeks.
Customers to Get Their Hands on Model 3 by July 28
There is a huge demand for Model 3 and hundreds of thousands of people have already reserved for a unit, which will begin deliveries on July 28. By December 2017, Tesla plans to produce 20,000 units and 500,000 vehicles annually by next year.
Musk is confident that demand for the Model 3 will increase "exponentially" in the coming months.
Tesla Model 3 Photos
Here is a glimpse of the Tesla Model 3: