Tesla Sued for Pop-Out Door Handles in Model S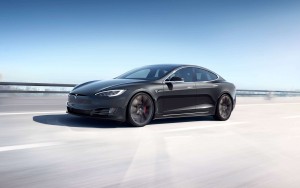 Tesla is in hot waters as an unfortunate accident resulted in a lawsuit against the automaker. The victim's family cited wrongful death as the cause of their loved one's demise due to the problematic pop-out door handles of the car.
The victim was Dr. Omar Awan who is a 48-year old anesthesiologist from Davie, Florida. The investigation claimed that he crashed his Tesla Model 3 in a palm tree. It resulted in the battery igniting, which later caused a fire in the entire car.
The police report alleged that rescuers had trouble accessing the victim as the car was engulfed in flames because of the failure of the door handles to engage. The lawsuit claimed, "Fire engulfed the car and burned Dr. Awan beyond recognition — all because the Model S has inaccessible door handles, no other way to open the doors, and an unreasonably dangerous fire risk."
The pop-out door handles of the Model S retract when not in use. However, the car has an emergency feature that pops them out during an impact. It should activate at the same time the airbags are deployed. This wasn't the case though with Dr. Awan's vehicle. Sadly, he died of smoke inhalation because of the botched rescue.
Looking back at 2015, it isn't the first time for Tesla to get under fire for faulty door handles. Owners of the Model S have complained that the pop-out door handles sometimes fail to work on cold weather because of their mechanisms getting frozen, and sometimes they would just stop working for no reason.
A similar incident happened in California wherein a man named Kevin McCarthy also died because the defective door handles prevented his escape from the burning Model S.
Authorities added that Dr. Awan's Model S reignited multiple times after the flames have been doused and the car was already in tow. This was attributed to the car's lithium-ion battery sparking even when the fire was out by then.
With the rapid advancements in the automotive landscape, events like these make us question if all the innovations that carmakers are introducing are really useful and practical. There's the question too of whether or not the public, especially rescuers, is truly prepared with all the complex challenges posed by the influx of new car technologies.