Testing of Hydrogen Fuel Cell Toyota Cars in China Will Start in October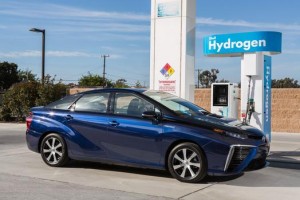 Toyota Motor Corp said during the 2017 Shanghai Auto Show that it will begin testing its hydrogen fuel cell cars in China by October. The move is for the company evaluate the feasibility of bringing the Mirai in the giant Asian country's market.
According to Reuters, Hirohi Onishi, Toyota's head of business in China, revealed that the automaker is planning to construct a hydrogen fuel station in Changshu City in the eastern part of Jiangsu province during the testing phase. He stated that promotional activities will be made in line with the arrival of their product in the country to gauge how receptive are the Chinese consumers to the vehicle.
The Japanese brand finds putting the hydrogen fuel cell-powered Toyota cars in China challenging though. Automotive News reported that there are only five hydrogen stations in the country. The facilities are centered around the cities of Beijing, Shanghai and Guangzhou. The Toyota station would be the first in Changshu.
Presently, the Toyota Mirai is sold in Japan, United States of America and Europe. From the said regions, the company has sold 3,000 units of the car. Australia, United Arab Emirates and Canada will also be the location of the other testing areas for the hydrogen fuel cell Toyota cars.
Lately, the Chinese government has implemented strict measures to curb the alarming pollution in the country. As a result, more automakers are investing into bringing their electric cars in that location. Recognizing the strong demand for EVs, even luxury car makers like Mercedes-Benz and Audi are taking their game into the electric car segment of the Chinese market.
With such a stiff competition looming in the electric car business, it remains to be seen how the Mirai will be received by China's consumers. Everything will be made clear once it arrives in the Chinese roads for testing.