The 2017 Bentley Mulsanne Is A "Pinnacle" Car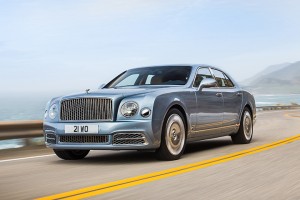 There's a new term in the motoring world—a "pinnacle" car, referring to everyday luxury cars in champagne-colored gorgeousness. Bentley's pinnacle car is the Mulsanne, a sedan with the characteristics and performance of the best in its class.
Its rivals include the S-Class, the Mercedes-Maybach models, the Pullman and the Phantom. Yet, even with this kind of competition, Bentley is pressing its claim that the 2017 Mulsanne lineup is the best in the world. What's new is a long-wheelbase model, an even longer-wheelbase model, and a new technology on the safety and infotainment fronts.
Next week's 2016 Geneva Motor Show will debut the revamped sedan in the lineup. Unlike other automobiles that are made in less than 17 hours, the Mulsanne takes a total of 400 hours to complete. That's efficiency for you. It is created in the same lab that churns out the likes of Continentals, Flying Spurs and Bentayga SUVs.
The extra 383 hours it takes to make the Mulsanne shows in the perfection of its aesthetics and designs, which can only mean it was handcrafted with love and precision. Although machines and robots weld the aluminum together, it is craftspeople who had to braze the metals together to create the Mulsanne's roofline, as well as the customized interiors Bentley's customers might come to request.
For its infotainment functions, the Mulsanne boasts of its 8-inch display screen with touch and swipe inputs backed by 60GB of media storage. It also has Apple CarPlay, Android Auto and an in-car 4G LTE data connection.
The Mulsanne will also accept a detachable 10-inch Android tables mounted to the back of the front seat headrests. The tablets can have 4G and wireless connection, and comes with a 32GB of onboard expandable storage. Passengers can use the connection to stream music to the car's audio system, browse the Internet, or open navigation maps on Google Maps.
Expect the Bentley Mulsanne to wow automobile enthusiasts during the Geneva Motor Show with its 6.8-liter V-8 ("6.75 liters," in Bentley heritage-speak) with 505 horsepower and 752 pound-feet and eight-speed automatic transmission. It has a top speed of 60 mph in 5.1 seconds.