The 2020 Audi S6 And S7 Will Sport Different Powertrains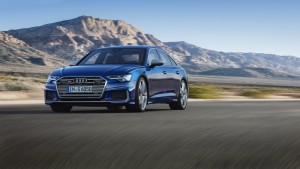 Europe will still get to enjoy diesel powertrains courtesy of the new 2020 Audi S6 and S7. Both cars will sport different powertrains depending on where they will be sold. The European market will get the S6 and the S7 in a V-6 TDI engine while the North American, Asian, and other markets will receive the cars exclusively with gasoline-powered V-6 TFSI.
Previous models of the S6 and the S7 saw the cars only with gas-powered 4.0-liter TFSI V-8 but Audi decided to go the route of the SQ5 performance SUV for the 2020 S6 and S7.
The TDI engine will be paired with a mild hybrid system and it will be able to generate 349 horsepower and 700 Nm of torque. It can reportedly reach 62 mph in just five seconds flat for the S6 TDI and 5.1 seconds for the S6 TDI Avant and the S7 TDI. The top speed is identical for both cars with an electronically-limited 155 mph.
The diesel engines won't require more than 6.5 l/100km / 36.1 mpg. This means you get to enjoy the performance without the engine gargling too much gasoline. This is the advantage of using a diesel performance car, the concept of which is quite alien to Americans.
The S6 and the S7 cars may be efficient and impressive in terms of performance and tech, but that doesn't mean that Americans will love these two new offerings from Audi. Maybe if Audi will bring the diesel engines from Europe, the US market will feel enamored with the new cars but seeing as there will only be a gasoline-powered engine offering, Americans may look to other manufacturers.
The gasoline-powered S6 and S7 will source its power from a 2.9-liter twin-turbo V-6 engine that can generate 444 horsepower and 443 pound-feet of torque.