The 3 Power Options For The New Jeep Wrangler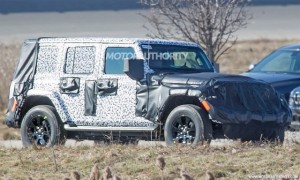 The new JL-series Wrangler will be introduced in November 2017 at the Los Angeles Auto Show, and is expected to be in dealerships by December of the same year. This 2018 Jeep Wrangler model will have three new power options customers can choose from, including a diesel engine that will surely be the favorite for so many.
Fiat Chrysler Automobiles held a meeting with select Jeep dealers this week for the new model, making the information about the three powertrains available for us.
1. Inline-4 Engine
During the launch in November 2017, there will be two powertrain options instantly available for customers. The standard option will be a 2.0-liter turbocharged inline-4 engine, which has already been confirmed as early as last year. Reports and estimations indicate that the engine will be able to produce as much as 300 horses. It will be paired with an 8-speed automatic transmission.
2. V-6 Engine
The second power option in the launch would be an upgraded version of the 3.6-liter V-6 engine, which is in the current Jeep Wrangler. It has an output of 285 horsepower, but that would be significantly boosted in the 2019 Jeep Wrangler. Those who will prefer the V-6 engine can pair it up with either a manual or automatic transmission, though the automatic one would probably the choice for most drivers.
3. Diesel Engine
Finally, the most important tidbit of information we got is that the third powertrain option would be a diesel engine. This would be introduced in 2019 the earliest, but there could be a couple of adjustments because the diesel option in discussion is the 3.0-liter turbocharged V-6 that FCA has been having trouble with because of emissions. There are also some rumors that the DEF (Diesel Exhaust Fluid) tanks, which were used to reduce nitrogen oxides in diesel vehicles, would be fitted in the new Wrangler.
There are no news yet on how many horses the diesel engine can produce for the Wrangler, but if it's any indication, the Jeep Grand Cherokee had 240 horsepower. It will be possibly paired with an automatic transmission.
Spy Shots
Check out the spy shots of the 2018 Jeep Wrangler taken by Motor Authority in the gallery below: