The BMW iNext Is A Crossover And We Are Not Surprised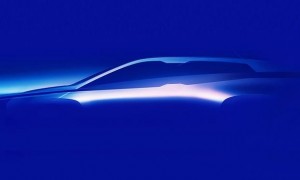 The BMW iNext is set to debut as a concept vehicle later this year, but we already received a teaser photo courtesy of the German automaker. There's so much to look for, including the fact that the iNext is going to become a crossover rather than a sedan. No surprise there, huh?
Many expected the iNext to be a sedan because it will be inspired by the Vision Next 100 concept, but there is a big demand for SUVs in the auto industry, particularly in China, now the world's largest market for automobiles. In 2017, the market share of SUVs in China exceeded that of sedans. So, it only makes sense for BMW to slot the iNext above the iX3 and have it sized the same as the X5. For comparison, the iX3 is just an X3 with mild design modifications.
Similar to the iX3, the iNext will feature BMW's fifth-generation eDrive technology. This drivetrain separates the electric motor, transmission, and power electronics, and features a more powerful set of batteries. The eDrive technology in the iX3 can produce 270 horsepower and can go 400 kilometers (about 249 miles) in the iX3 concept. Since the iNext is slotted above the iX3, we can expect a more powerful iteration of the eDrive powertrain.
The iNext is expected to be the German automaker's first vehicle to feature autonomous driving technology. BMW is working with a number of big companies such as Mobileye, Intel, Continental, and Magna.
The iNext will start production sometimes in 2021, and is set to become the brand's flagship electric vehicle. The much-discussed and highly-anticipated iNext should be catching the attention of SUV lovers worldwide, especially those who have made the transition to electrically-charged vehicles. It should be competing with Tesla's Model X, which is also an electric SUV.