The Brand New Audi S5 Revealed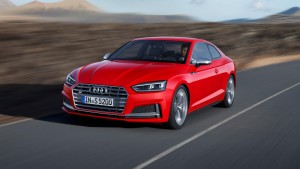 Audi has finally revealed its brand new Audi A5 and S5 Coupes, which will give the BMW 4-Series and the Mercedes-Benz C-Class Coupe a run for their money. The Audi S5 is decidedly faster, more efficient, and even lighter than before.
But this is exactly what we are expecting from the S5. Recently unveiled, the S5 followed Audi's new design DNA with a flatter grille, long bonnet and shorter overhangs. The one that we have been most looking forward to is the S5, which is more powerful compared to the A5.
The new S5 will carry the 3.0-liter V6, which is now turbocharged to produce 349 horsepower, which is 20 horsepower more than the outgoing S5 Coupe. It also has an eight-speed auto—a standard fit for the four-wheel drive.
The Audi S5 is so equipped that it can accelerate from 0 to 62 mph in just 4.7 seconds. In comparison, the closest the BMW can get is the 440i, which has 322 horsepower and can go 0-62mph in 5.2 seconds or 5.4 seconds for the auto transmission.
As for the Mercedes-Benz, it got the AMG C43, which produces 362mph and can go 0-62mph in just 4 seconds.
On the other hand, the regular A5, which is more likely to be the more popular of the two coupes, will have the option of either a 2.0-liter turbo petrol or a 2.0-liter diesel. You may also choose a pair of 3.0-liter TDIs with power ranging from 187bhp to 282bhp.
For the lesser cars, there's the option of a six-speed manual or seven-speed auto. The diesel option and the S5 can get the eight-speed transmission.
The cars will come with an all-new chassis, which can be equipped with adaptive dampers and dynamic steering. Either way, the A5 will have no trouble handling "narrow, winding mountain roads and long trips on the Autobahn with equal aplomb."