The Liberty Walk Lexus LC500 is Just Wild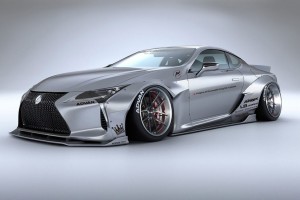 Japan-based Liberty Walk just released its new custom body kits for the latest Lexus LC500. The new package adds more to the sporty exterior of the car.
There two versions to choose from in the new body kits of Liberty Walk for the LC500. There are also two options for the materials used in the upgrades.
Exterior Upgrades
According to Liberty Walk, the visual enhancements offered by the body kits include a new front diffuser, side diffusers, rear diffuser, rear wing and wide fenders. Buyers will have the option to select either the fiber reinforced polymer (FRP) or carbon fiber reinforced polymer (CFRP) materials for the package.
From the looks of it, the add-ons really bring the base of the car very near the ground. So, better look out for some speed bumps along the way. The photos reveal a new set of Advan wheels and blue-tipped quad tailpipes too, which really complement the body kit. There are some decals in the car as well, including Liberty Walk logos, Advan logos, and letterings on the doors that read "Imagine all the people living life in peace." The quote was lifted from John Lennon's song titled "Imagine".
Pricing
The first version of the body kit costs $15,650 for the FRP and $19,440 for the CFRP. The second version is priced $13,380 for the FRP and $16,740 for the CFRP. It should be noted that the LC500 already has a starting price of $92,995 (including shipping).
Interior
The interior of the LC500 is not covered by the package, but we think that the stock carbon fiber and Alcantara materials used inside the car will go well with the Liberty Walk body kit.
Engine
The engine remains in its factory configuration. As a recap, the LC500 is powered by a 5.0-liter V8 with 471 hp and 379 lb-ft of torque. Combined with a 10-speed automatic, it can go from zero to 60 mph in 4.4 seconds. Its top speed is capped at 168 mph.