The Mercedes-AMG GT R Promises 577BHP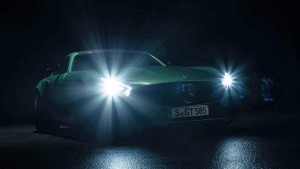 When Mercedes announced that an AMG GT R is coming, experts and car enthusiasts alike were on tenterhooks, wondering just how powerful it could be. Well, time to stop the teasers that Affalterbach tuner has been dropping. We now hear a confirmation of some of the performance specs for this supercar.
The new Mercedes-AMG GT R will have a 577bhp twin-turbo V8 that sat behind its front axle, driving the rear wheels. This is the same engine that has been fitted to the regular GT and sportier GT S.
This makes it 74bhp healthier than the existing AMG GT S, which only gives out 503hp (the GT has an even lower 453hp capacity). It also makes this model the most potent Merc supercar since the SLS AMG Black Series.
The engine also makes it a direct rival to the Porsche 911 GT3 RS that has 500hp while it falls slightly below the Chevrolet Corvette Z06 and the Nissan GT-R Nismo that offer 650hp and 600hp, respectively.
New to the AMG GT R are the transaxle transmission, a modified undercarriage, a more involved aerodynamic package that comes with big wings, splitters and dive planes, and a carbon-based construction.
There are no details yet as to how "light" the AMG GT R will be. What we do know is that the 577bhp promised will allow the supercar to go 0-62mph in just 3.6 seconds and on to a 198mph top speed.
Merc assures "an extraordinary driving dynamics" that delivers "extreme fast laps" on the racetrack.
We shall all get ready for its debut at the 2016 Goodwood Festival of Speed in United Kingdom. Also something to look out for is the GT-R's exclusive color called the AMG Green Hell Magno, which can be seen on the teaser shots.
The "Green Hell" is a reference to the Nurburgring where much of the car's looks were developed.