The New 2013 Audi S3 – A Little Beast!
There is not a single person on earth who would call himself an automobile fanatic and not that the automobile manufacturing giant Audi is owned and run by the Volkswagen Group. Over the years since its establishment, the company has expanded exponentially and now produces automobiles under the names of Ducati and Lamborghini as well. Audi has been putting out to the market examples of true German engineering and is now known for the highly efficient and strong vehicles it manufactures. To its fleet of numerous popular vehicles, Audi recently added the S3, which falls under the category of compact sports cars.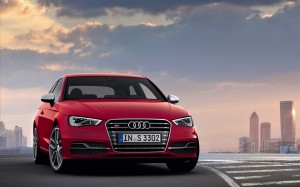 A compact sports car is one that blends the desirable size of a small car with the high power efficiency and performance of a sports car. The Audi S3 combines all the power that the most insane speed freak would want with the compactness that makes driving this little beast in the city quite convenient. The S3 was unveiled at the Paris Motor Show 2012 just one day after Audi revealed their A3 Sportback model. Audi made sure that the S-series looks sportier than the A-series and the S3 reflects this. Apparently, Audi wanted the S3 to be stronger than the A3 with a 2000cc TFSI turbocharged four-cylinder engine that jumps the car from 0 to 60 mph in 5.1 seconds – models with manual transmission require 5.4 seconds to reach this speed. Its tops speed is an intimidating 155 mph (250 kilometres per hour) powered by 300 HP and 280 lb-ft of torque.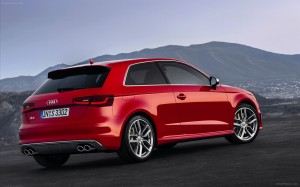 The S3 also sets the bar high bar for its competitors when it comes to looks. The basic structure of the S3 is quite similar to that of the A3, but the designers have made many minute changes, making it look much more stylish and sporty. The front grill is made sufficiently large so that the powerful engine receives sufficient air for cooling down. The interiors are elegant and royal. Abundance of the color black accompanied by the contrasting details make the driving experience very trendy and luxurious. Audi's designers have done a good job with the looks of the S3!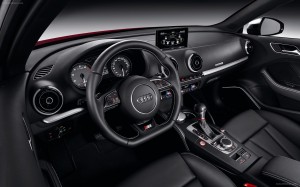 Audi have made their Quattro feature optional for the S3, and buyers can choose between two and four wheel drives as per their interests and needs. The costs of all the six models will be around the $52,000 mark, making the Audi a bit more expensive than its competitors, but the powerful engine and the handsome looks of this beast make it totally worth it! Audi has planned of launching 6 different models of the S3 which will be occur in the European market somewhere in the early 2013.