The New 2013 Range Rover!
Along with the beautiful Range Rover Evoque, Land Rover has launched its new 2013 Range Rover improving on the 2012 model of the SUV.
The new 2013 Land Rover Range Rover features a lot more than the 2012 model, making the two quite different from each other. One of the most outstanding differences is the weight of the car's body. The 2013 model is made up of aluminium, which resulted in a reduction of 420kgs compared to the former 2012 model. Wit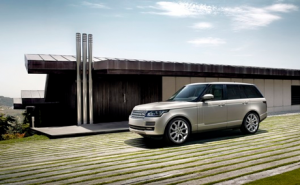 h the reduction in around 39% of the weight, the new Range Rover is now much more fuel efficient, faster and stable!
The 2013 Range Rover will be available to customers in three different models – one petrol version and two diesel versions. All of these models will be featuring an automatic transmission system, and Land Rover's trademark –all-wheel drive system. The petrol version will come with a 5000cc V8 engine. Sounds insane, right? There are two different trims for the diesel versions, one featuring 3000cc TD V6 engine and the other one featuring a 4400cc SD V8 engine. The petrol version's 5000cc engine produces power of 375 horsepower and a torque of 375 lb. ft. The supercharged engine produces 510 horsepower and torque of 461 lb. ft. The top speeds that both trims attain are 130 and 140 miles per hour respectively. Also, these models reach the 60 miles per hour mark in 6.5 seconds and 5.1 seconds respectively.
Luxury is something that you will find in abundance in the car's interiors. With an unparalleled sound system which comprises of over 20 speakers, you also get a climate control system and two LCD displays. The first display is used for displaying important information, while the other, touchscreen display is for entertainment and other controls.
The exteriors aren't very different from the 2012 model. You will notice slightly improvised detailing in the headlamps, which now feature daytime LED lamps, making the car look much more aggressive. Land Rover has planned to make the interiors a bit more spacious by increasing the wheelbase slightly.
You cannot question the overwhelming success of the Land Rover's Range Rover series. Land Rover seems to have got just the right blend, luxury and utility for this powerful SUV. Land Rover has certainly added a great car to its already amazing collection!
About Land Rover: Land Rover is a UK based SUV manufacturing company, which is known for its impeccable four wheel drive systems. Along with Jeep, Land Rover is the biggest four wheel drive automobile manufacturing company in the world. Formerly owned by the BMW and then Ford Motors, the company's operations are now carried out under the Indian Automobile Company Tata Motors. The Range Rover series is known for featuring stylish and strong SUVs, and was incorporated in Land Rover's fleet of cars in 1970.