The New Ford Focus RS Will Be A Hybrid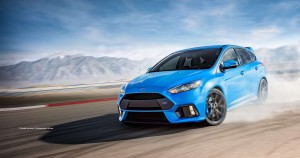 Ford is planning for another RS-badged Focus as the current generation Ford Focus RS is preparing to stop production by April 6 this year. The next-generation Focus RS will reportedly be a hybrid that can produce up to 400 horsepower.
Dutch publication Auto International started the rumor last week when it reported that the next-generation Focus RS will have a 48-volt, mild-hybrid system that will boost the power production of the vehicle. That is reason enough for the RS-badged Focus to be able to choke out a nice 400 horsepower output.
The current-generation Ford Focus RS produces 350 horsepower, though a 370-horsepower version was also available, thanks to a Mountune performance kit. The 370-horsepower Focus RS was aptly called the Focus RS Heritage Edition.
The same report said that the current 2.3-liter turbocharged inline-4 engine will be carried over to the next-generation Focus, but it is believed that the hybrid will have a bigger starter motor that will seriously boost the powertrain capability. Aside from the 400-horsepower output, the new Focus RS will allegedly also come up with an additional 44 pound-feet of torque, bringing the total to 394 pound-feet of torque.
These are just rumors, of course, but there's credence to it since Ford plans to electrify most of its vehicles in the coming years. In fact, it even teased a future battery-electric performance crossover that would carry the "Mach 1" name. There was also a report that a hybrid version of the Mustang and F-150 might be coming out.
Jim Farley, executive vice president and president for global markets, earlier said that Ford plans to distribute seven fully-electric cars in North America by 2022. This might be the start of that project.
There's no timeline as to when the next-generation Focus RS will come out. What we do know is that the next hatchback will make its bow at the 2018 Geneva Auto Show. The sedan version might make its debut at the 2018 New York Motor Show.