The new Renault Espace is ready to strike, with looks and performance
There is nothing like new things in our life, isn't it? The excitement, the anticipation, the thrill that they fill our hearts with, is simply unmatched. Be it a new house, a new relationship or a new machine. Talking about new machines, we have heard Renault has got something up its sleeve and this something is a notch above what we have seen of late. It seems like an over promise to many and we get it. How would you know how great a machine is, till you know its features, its looks better? That is exactly the reason why you are reading this. So, just for your pleasure, here is presenting the upcoming Renault Espace 2015 – it is chic, it is a driving pleasure that you would call exemplary and it is not going to keep you waiting for long!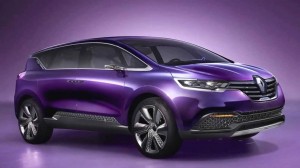 For all those who had thought this one is a MPV, there is quite the revelation here. The new Renault Espace is more likely to be a crossover than any other kind of machine. It is made to be a people's machine, with definitely many enticing features. There are experts who are saying in hushed tones that its performance is going to get the town talking. What we have heard in all loudness is the fact that UK seems pretty disappointed on the new Renault Espace 2015 front. Why? Well, from what we have heard and if all of it is to be believed, Renault Espace is not going to hit the UK markets, not just yet. It seems to be the company's decision and we are far from knowing why at all. There are people wo are of the view that it is because of the current fiscal situation. Whatever be the reason, yes, we do get the disappointment and all we can do is feel lucky that we know this stunner even before it is out on the roads.
How well do we know the upcoming Renault Espace 2015 is a question that has been asked way too many times, for us to ignore it. We have got to say that from the three new photos released by the French, it appears to be quite the looker! Paris Motor Show is where it will be unveiled but those three photos have been such a teaser that there are a lot of speculations already about how popular this one is going to get. It is certainly grand, loaded with new features. It is a perfect blend of a confident, assertive design and close to the concept design that was unveiled earlier at the Frankfurt Motor Show. This is expected to be either a five or a seven seater and only one model is going to be available at a time. It comes fitted with innovative interiors that allow passengers to be as comfortable as they please.  So, this one is comfort, design and performance, rolled in to one! What more could we ask for?