The Next Volkswagen Beetle is Going Electric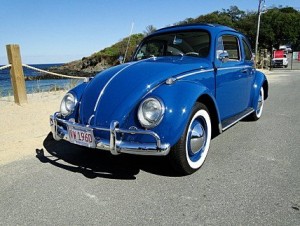 The Volkswagen Beetle is proposed to get an electric power. The next generation of the car will most likely run on the new MEB (Modular Electric Baukasten) platform of the automaker.
According to Autocar, the electric Beetle is planned to serve as a sister model to the latest Microbus, which came out as the ID Buzz concept at the 2017 Detroit Motor Show. The Beetle is one of the number of cars that will be presented to the VW board when they will have a vote on the company's initial range of electric vehicles.
Herbert Diess, Chairman of the Board of Management of the Volkswagen Passenger Cars brand, said that the decision of the board will be based on what kind of "emotional concepts" they need. He explained that "emotional concepts" will include autos like the Microbus, Beetle, Kubelwagen and Buggy. He cleared out that there is no firm decision on the subject yet though.
Further into the interview, the VW exec hinted that they are favoring the Beetle. He stated that if they are going for an electric Beetle, it would be better than its latest model. Instead of its modern design, it would get back to its roots and it will have a rear-wheel drive.
Deiss pointed out that their MEB platform is planned to  support up to 15 new electric-powered models. Five of them will be marketed under the VW name.
The rear-wheel drive setup for an EV was previewed under the Volkswagen ID hatchback concept at the 2016 Paris Motor Show. The concept was equipped with one electric motor mounted on the rear axle. The output of the auto was 168 bhp.
Although this is not yet conclusive, it definitely gives us something to look forward to. Getting back the retro Beetle design is a cool direction, especially for the die-hard fans of the classic VW.