The Volkswagen ID.4 SUV Is Ready For Production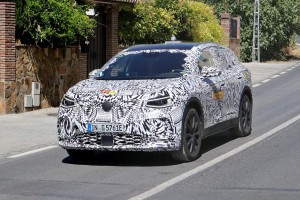 The Volkswagen ID.4 SUV, which will come a year after the ID.3 hatchback arrives in dealerships, has been spotted in its production form for the first time. The SUV is due to come in showrooms by the summer of 2021.
As expected, this bodywork has more conventional SUV proportions than the ID. Crozz concept, on which the ID.4 SUV was based on. The concept was introduced at the Shanghai Auto Show last 2017. Instead of the concept's coupe-inspired rear liftback, the ID.4 SUV has a practical tailgate, as well as B-pillars and wing mirrors, both of which are missing from the ID. Crozz concept.
Many features have been retained from the concept such as the trademark ID, LED headlights, daytime running lights, raked windscreen line, blanked-off radiator grille, and the rugged plastic moldings for the side skirts and wheel arches.
The ID.4 SUV is based on the MED platform. This means that Volkswagen will likely offer the SUV in a range of drivetrain options with probably different power outputs. The less expensive variants are expected to feature a single electric motor, two-wheel drive, and smaller battery packs while the more expensive ones will likely arrive with a pair of motors and four-wheel-drive.
The battery packs will range from 45kWh to 77kWh in size. It will offer an electric range between 200 and 300 miles.
Volkswagen has yet to announce the exact technical and performance specifications of the ID.4 SUV although the ID. Crozz concept features a pair of electric motors that have power outputs of 302bhp, a top speed of 112mph, an all-electric range of 500km (311 miles).
The production form gave us a peek of the car's interior. It has that "floating" infotainment screen and digital instrument cluster. Since the ID.3 is expected to come packed with voice control and satellite navigation, we should see the same in the ID.4.