Three Mercedes-Benz G-Class Models Will Be Discontinued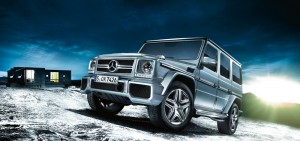 The iconic Mercedes-Benz G-Class will be streamlining its offerings. The German brand is looking to discontinue three models in its longest-running SUV's lineup.
According to MB Passion, the variants to be axed in the near future are the Mercedes-Benz G350d Professional, Mercedes-AMG G65 and the Mercedes-Benz G500 4×4².
Mercedes-Benz G350d Professional
Among the three mentioned models, the G350d Professional will still see the light of day in a few years. The report claimed that Mercedes still needs to accommodate consumer demands for it.
Mercedes-AMG G65
The Mercedes-AMG G65 will get a special send-off. A Final Edition model for the V12-powered unit will be released. This will signify the end of its production. Only a few samples of the Mercedes-AMG G65 Final Edition will be made.
Mercedes-Benz G500 4×4²
The G500 4×4² is the successor of the massive Mercedes-Benz G63 6×6 AMG. It carries the same portal axles found in the six-wheeler but with a tuned down engine. Sadly, it will be put out of its pasture without much fanfare.
New Mercedes-Benz G-Class Coming Up
A new G-Class is set to debut at the Detroit Motor Show in January 2018. There is no official confirmation about its features yet and all we have seen so far are its spy shots. However, those who have witnessed the prototype in the flesh and other insider sources have claimed that the upcoming G-Class has a longer wheelbase and wider track.
The G-Class coming in 2018 will retain the signature look of its range. It still has that boxy shape together with the same styling featuring wide fenders flares, low beltline, narrow radiator grille and round headlamps.
The new model will run on diesel and petrol powertrains. A 4.0-liter biturbo V8 unit will probably be carried in the base model of the auto sold in the United States.