Three Nissan Midnight Edition Trucks Unveiled During The Solar Eclipse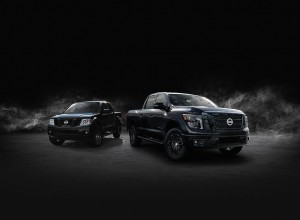 A trio of pickup trucks that have been fitted with the Nissan Midnight Edition pack were unveiled. This came just in time for the solar eclipse that took place on Monday. The three pickup trucks that received the treatment were the midsize Nissan Frontier, the full-sized Titan, and the heavy-duty Titan XD.
These are all going to be 2018 models, but will reach Nissan dealerships later this year. The Midnight Edition will be offered in three colors only—black, gray, or white.
Nissan Frontier Midnight Edition
The Midnight Edition for the Nissan Frontier will be applied on the four-door Frontier SV crew-cab model, which comes with Nissan's 261-horsepower 4.0-liter V-6 engine. The dark trims can be seen on the body-color bumper, the blacked-out grille, side steps, door handles, the 18-inch wheels, and the rearview-mirror caps. The package is not available for the truck's six-speed manual transmission.
Titan and Titan XD Midnight Edition
The Midnight Edition package is available both for the SV or SL trims of the Titan and Titan XD models. However, the package for the Titan will require owners to add the torquey turbocharged 5.0-liter V-8 diesel engine.
Both models, through the Midnight Edition package, will have body-color bumper covers that complement the trucks' 20-inch wheels, black grille, rearview mirror caps, door handles, and side steps. The Titan and the Titan XD will also have black headlights and fog lights with charcoal interior trim. The Titan XD, particularly, will be fitted with black painted fender vents.
There is no pricing information yet for the Midnight Edition trucks that will be released as 2018 models. For the current 2017 models, the diesel XD will cost $4,800 more on the SV crew cab while owners would be required to pay $5,250 for the same configuration on the SL crew cab.
More details on the prices are expected to be released soon.